Washington Is Outdoing California and Texas in Renewable Energy
Renewable-energy consumption by state.
California and Texas might be leading the nation's rollout of solar and wind power, respectively, but Washington, where hydroelectric dams provide over 60 percent of the state's energy, was the country's biggest user of renewable power in 2011, according to new statistics released last week by the U.S. Energy Information Administration.
Hydro continued to be the overwhelmingly dominant source of renewable power consumed nationwide, accounting for 67 percent of the total, followed by wind with 25 percent, geothermal with 4.5 percent, and solar with 3.5 percent. The new EIA data is the latest official snapshot of how states nationwide make use of renewable power, from industrial-scale generation to rooftop solar panels, and reveals an incredible gulf between leaders like Washington, California, and Oregon, and states like Rhode Island and Mississippi that use hardly any.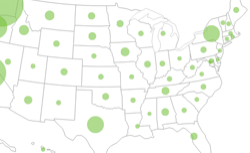 The gap is partly explained by the relative size of states' energy markets, but not entirely: Washington uses less power overall than New York, for example, but far outstrips it on renewables (the exact proportions won't be available until EIA releases total state consumption figures later this month). Still, the actual availability of resources—how much sun shines or wind blows—is far less important than the marching orders passed down from statehouses to electric utilities, says Rhone Resch, head of the Solar Energy Industries Association.
"Without some carrot or stick, there's little reason to pick [renewables] up" in many states, he says; even given the quickly falling price of clean energy technology, natural gas made cheap by fracking is still an attractive option for many utilities.
More than half of the 29 states that require utilities to purchase renewable power are currently considering legislation to pare back those mandates, in many cases pushed by (surprise, surprise) the American Legislative Exchange Council. "We're opposed to these mandates, and 2013 will be the most active year ever in terms of efforts to repeal them," ALEC energy task force director Todd Wynn recently told Bloomberg.
But so far the tide seems to be turning against that campaign: This week the Minnesota legislature will consider two versions of a bill passed by the House and Senate that would require utilities to get 1 to 4 percent of their power from solar by 2025 (solar made up less than 1 percent of Minnesota's renewable power in 2011); last month North Carolina, the same state that outlawed talking about sea level rise, surprised green energy advocates by voting down a proposal to ax the state's renewable mandates, followed a few days later by a vote in Colorado to increase rural communities' access to renewables. But challenges remain ahead in some of the very states that already rank relatively low for renewables consumption, including Connecticut, Missouri, and Ohio.
"If you have all these utilities sticking with gas, coal, and nuclear, then you create a situation where 20 years from now they aren't prepared to deal with the increased climate risk," she says. "Electricity is a huge piece of the climate puzzle, so [utilities] need to be learning what to do with renewables."
There's always the option that Congress could set a renewables standard on the national level—a group of senators took a failed stab at one in 2010 only a few months after Republicans killed the infamous cap-and-trade bill. But don't hold your breath, Wadsack says: "I don't know that I would call it a pipe dream. But I wouldn't see it happening in our current set of national priorities."

This story was produced as part of the Climate Desk collaboration.