The Gripe Sweepstakes
Customer complaint letters: Pick the winner!
On Jan. 14 ("The Art of the Gripe") Slate invited readers to enter their best customer-complaint letters into a contest. The results were dismaying in one way, and encouraging in another.
They were dismaying because a customer-complaint contest turns out to be the sort of competition that attracts a lot of unhinged people whose complaints, even when persuasive, ignore the crucial first two rules I laid down: Don't be nasty, and be succinct. Now that I've plowed through about 150 entries, I'm full of compassion for the "escalation specialists" who must spend their days answering irate mail from pissed-off customers who've figured out how to get past the Manila call center. They aren't a fun, or particularly rational, bunch.

The many godawful entries are encouraging, however, in this respect: If you're one of the very few people who know how to write a complaint that's calm and gets right to the point, your letter will really stand out from the crowd. The catch is that you really have to be that type of person—not one of the many who think they're that type but miss it by a mile.
Of the 150 or so entries, I'd say no more than about 25 made the grade. I have now winnowed that list of 25 very good letters down to nine finalists. I invite you, dear reader, to make the final decision. The nine finalists are reprinted below. Vote for your favorite in the poll at the end of this column. The winner will be announced in my next column.
You will note that even the excellent nine complaint letters that made it to the finals sometimes depart in various ways from my instructions. Rules were meant, I guess, to be broken. One rule I feel compelled to honor is not to include among the finalists anyone who didn't actually enter the contest. It is therefore with a heavy heart that I've omitted Matt the Electrician, a singer-songwriter in Austin, Texas, whose You Tube video, "For Angela," is a customer-complaint letter set to music. It's embedded below.
1)    If I wanted to watch commercials I'd stay home and watch television.
Gary F. Krannacker
Carmike Cinemas, Inc.
Columbus, Georgia 31901
My wife and I have been visiting Carmike Theaters for 8 years now. We usually attend your theater in Oakdale MN since that is the closest theater to our house, but we have also other been to your theaters in 3 states.(IA, WI, and NE).  We like the Oakdale Theater for the comfortable seats, and the large amounts of parking.  In a normal month we see 4-5 movies
I am writing you because of our experience at the movie Knight and Day which we enjoyed greatly.   The movie had a start time of 7:05pm but it was 7:26 before we were actually watching the movie!  I am a big fan of previews, but having 6 previews makes me feel like you are taking advantage of my time.  The actual product commercials are insulting.  If I wanted to watch commercials I would stay home and watch network TV.  I paid $10 to see a movie in your theater and I feel like making me watch 6 mins of commercials insults my intelligence.(7:05-7:11).  I don't mind seeing commercials before the 7:05 start time because that is just dead air anyways, but playing commercials after the start time makes me not want to visit your theater in the future.  My wife and I also visit CEC theaters which do not play commercials after the start time that I have seen and if we have a choice of the two we will probably start choosing CEC.
I realize with the economy being slow you guys are doing your best to squeeze every single nickel you can out of every screen you have, but disenfranchising your loyal movie going customer seems like a bad idea to me. I see two solutions to this problem   First Carmike could try to keep the previews down to maybe 4 and move the commercials to before the official start time. The Second alternative would be to list the actual start time of the movie on your website so that people that really watch a lot of movies could go online and figure out the best time to arrive then you could list the extended start time everywhere else.  I hope that someone reads this and realizes that there are thousands of loyal customers out there that feel the same as I do.  I think Carmike could really take a leap of faith and distinguish themselves from the rest of the movie theater industry.
7:05 p.m. advertised start time
7:00. commercialsstart
7:11. still commercials
7:12. movie previews start
7:25. previews end
7:25. carmike ads
7:26. movie starts
CC:    Corporate Secretary
(Result: The CEO of Carmike, Fred Van Noy, wrote Walker to say "Twenty-six minutes of post-showtime pre-feature events are a little much and we will check our programming for any miscommunication between our home office and theatre." Van Noy thanked Walker for his time and sent him six movie passes.)
2)What have you got against epileptics?
Good afternoon. My name is Joshua Spall. I've been a loyal Kroger [grocery chain] shopper for a couple of years, ever since moving to Fort Wayne, IN. This afternoon I intended to shop at the Kroger store on Pettit Avenue in Fort Wayne. I am an epileptic, and currently unable to drive, so I rode my bike to the store. I chained my bike to a large sign outside the store and attempted to enter.  I was stopped by a security guard named Eric telling me that I would not be able to enter the store carrying my backpack. I tried explaining my situation to the guard, telling him about my disability, that the backpack is the only way I can get the groceries home, and that I did not feel safe leaving the backpack outside, as there was no way to secure it to the chain. Eric told me that I could not enter the store with the bag, as it posed a risk that I would shoplift. It is not a large backpack, no larger than a child would carry to school. As we stood there talking, he allowed a gaggle of women to pass, at least three of whom were carrying purses that dwarfed my bag in size. I offered to carry the bag, ala a purse, since that was obviously permissible. He again refused to let me enter.  In the end I was turned away from the store.
I rode my bike a few extra miles and shopped at a Wal-Mart grocery store.  It saved me money, and I was allowed to carry my backpack. I find it disheartening to think that a corporate behemoth like Wal-Mart is capable of being more understanding and caring than my local Kroger store, but maybe it's true. Maybe Kroger has grown too large, and maybe I should just buy cheaper groceries from Wal-Mart.
The backpack is a reasonable accommodation of my disability.  As such, I believe it to be covered by the Americans with Disabilities Act.  I'm considering taking legal action against Kroger.  As a young law student, I think it may be a great case to cut my teeth upon.  Moreover, if Kroger really is hostile toward persons with disabilities, I believe that fact should be uncovered for the world to see.  I'll be discussing the situation with my law professors this fall, and decide which course of action to take at that time.  Until then, I guess I'll just shop at Wal-Mart.
(Result: A customer service rep called that night and a few days later Spall received a $300 coupon.)
3) With this defective ring I thee wed.
Benchmark Inc.
Attn:  Customer Service
My wife Jill and I have matching Benchmark wedding rings ("Bamboo" style). A while after getting the rings, my wife noticed that her platinum outside ring moved slightly on the inner 18K ring.  Eventually the platinum would do full rotations over the gold.  She had a jeweler look at it about 2002; he told her not to worry because it was just like a "carousel ring." Over time, the platinum got looser until finally it seemed in danger of falling off of the inner ring. This happened with only normal wear. The ring never had any unusual handling, and no alterations were ever attempted to it. She checked with three local jewelers this month, all of whom said that they could not repair the ring.
Next Jill took the ring to the ValuExchange forty miles away in San Francisco, where we had originally bought it. Harold Apfelbaum at the ValuExchange identified the ring as a Benchmark.  He said that no registration policy was in place at the time we bought our rings, and assured us that Benchmark stands behind its rings, saying "Benchmark is the best." We were further encouraged by looking at Benchmark's web site, particularly the "Lifetime Guarantee" and "Our Mission" sections of the "About Us" page. Harold sent the ring off to Benchmark to be repaired, and we felt confident that Benchmark would make it right.
We next learned from Harold that the ring was not reparable and Benchmark wanted $450 to replace it. We found this news surprising, to say the least. Harold indicated that Benchmark seemed to be under the impression that the ring had been altered in some way. Harold said there was nothing he could do, so Jill called Benchmark directly. Neither Sheila nor Sonya at Benchmark were able to help us. They didn't even seem to want to talk to us, and felt  they should only be talking to Harold. They did give us a reference number to track the ring (PTECF256007).
Jill and I have found this very upsetting. It took me a while to figure out exactly why it was so upsetting to us. It is not in any large measure the money, though $450 is a significant sum.  Certainly, the implication that we are not being honest when we say that the ring has never been altered, nor had any treatment other than the very normal wear that a ring receives when on a woman's finger, plays a part. Jill and I both take our integrity very seriously, and our word is our bond. The ring has never been altered, or received any unusual handling of any kind.
The most upsetting part of this, though, has been something that it took me a little longer to put my finger on. I hope that I can explain it adequately.
Jill and I chose our wedding bands together on March 8, 1995. We had decided we wanted matching rings, to symbolize the bond we would have with each other. After looking at many patterns, we chose Benchmark's Bamboo style. When the rings arrived, we felt they were the most simple, elegant and beautiful rings we had ever seen.
Our wedding was on April 23, 1995. We exchanged rings, saying, "with this ring I thee wed".
At first, we were very conscious of the rings on our finger, just as we were very conscious of being newly wed. Over time, though, our rings became a part of ourselves, just as Jill and I each increasingly felt ourselves as half of our greater whole. We each occasionally reach over to the other and click our rings together, which is our unspoken way of saying "I love you". These rings are not a piece of jewelry to us. They are our very real symbol to each other and to the world of the vows we made to love, honor and cherish each other, until death do us part. I know that nowadays not everyone takes their wedding vows seriously, but I assure you that we do. 
What is so upsetting to us about this process is that it could change what these rings mean to us.  When we look at these rings, we want to be reminded of what we have always been reminded of, and what we were meant to always be reminded of:  our commitment to each other. We don't want to look Jill's ring and think of it as just another piece of defective merchandise that we had to pay for twice because the company that made it was unwilling to stand behind it.
Over the years, some of my friends have become quite cynical. They roll their eyes when I say that I still have faith in basic human decency.  I know that, in the stress and rush of our daily lives, it is sometimes easy to lose sight of what is really important. But I also know in my heart of hearts that most people don't say things they don't mean, don't try to wiggle out of their commitments, and will do the right thing when they are given the chance. So all I ask is that whoever receives this letter pass it on to a person at Benchmark who is in a position to uphold Benchmark's principles, as stated in the Benchmark web site (copied by me below). I'm confident that they will do the right thing.
Every Benchmark piece is backed by a Lifetime Guarantee that states:
· If your ring is ever damaged during normal wear, Benchmark will repair or replace your wedding ring free of charge.

·If your ring finger size ever changes, Benchmark will re-size or replace your wedding ring free of charge.
Certain types of wedding bands (two-tone bands, patterned designs, diamonds) are difficult, if not impossible, to size without damaging the ring. At Benchmark we will make sure that your Wedding Band is taken care of properly. If we can't fix it, we will replace it.
Our mission is to promptly manufacture the highest quality wedding bands and engagement rings in the industry, continuously focusing on satisfying our customers' needs and constantly striving to exceed their expectations. We will achieve this by maintaining practices that stress long-term relationships between our company and our customers, the integration of technology, human resources, and a strong commitment to helping our team members reach their full potential.
Benchmark was founded on three basic principles: Value our customers; love our team and satisfaction for a job well done. Teamwork is more than just a mission statement at Benchmark. It is a way of life that assures each customer individual attention at every level. Our team makes a commitment to you.
There is a passion derived from knowing that as a company, we make products that touch so many lives. Few industries can offer products that elicit such love that represents a lifetime commitment.
I can be reached at work, home, or by email [personal info withheld from publication].
Sincerely yours,
Keith Bertrand
(Result: Bertrand received a phone call from the company president, A.J. Tosyali *, who replaced the ring free of charge.)
4)    Dad's 85th birthday can't wait.
To UPS, it was tracking number 1Z071WE20291910529. To me, it was a gift for my father's 85th birthday, the centerpiece of the celebration we had been planning for months, to be opened at a dinner for our whole family. We really needed it to be in Chicago on time.
I figured that sending it Tuesday and paying extra for two-day delivery should do it. We didn't need it until Saturday.
When it had not arrived by Friday, I checked and found out it had been delayed for a day due to snow.  Therefore, it should then have taken three days and arrived on Friday, Saturday the latest.  But the website said it would not be delivered until Monday. So with the help of the retailer, we were able to confirm that we could pick it up ourselves at UPS on South Jefferson Street in Chicago Saturday before 1 pm. 
A $40 cab ride to South Jefferson St. later, we were told that the package was there but on the truck and could not be unloaded. Danny (he did not give me his last name) at the pick-up desk had no suggestions to make. He was courteous but completely unhelpful.
I understand weather delays and human error. This is why I paid for two-day delivery five days before I needed it -- to be absolutely sure it would be there on time. What I do not understand is why we and the shipper (Voice Quilt) continually got the wrong information every time we checked either by phone or online (at least five times each) and why a pick-up desk like the one at South Jefferson has no manager around in person or by phone who can help with alternative options. 
Now that it has arrived – a week after it shipped for two-day delivery -- I would very much appreciate your looking into this matter and getting back to me to let me know what steps UPS will take to improve communications and responsiveness in the future, including an immediate alert to the shipper and /or recipient of any delay and staff who can word toward the "solutions" your website claims are the UPS speciality.
(Result: No reply yet. Minow is editor and founder of The Corporate Library, a research firm focused on corporate governance, and writes Beliefnet's " Movie Mom" column. Her father, Newton Minow, was chairman of the Federal Communications Commission under President John F. Kennedy.)
5)    The cockroach in my shower.
Ms. Chrystal  Harradon, Manager
Holiday Inn Express
Temple, TX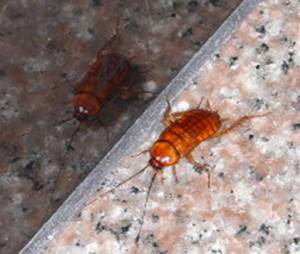 When the lovely creature at [left] crawled into the shower with me during my recent stay at your hotel (2/5-2/6/08, room 102), I was flabbergasted by his (her?) audacity. Obviously, I was the interloper; even after I snapped a towel at my new roommate and sent him sailing across the bathroom, he continued exploring the perimeter, a cocksure cockroach clearly at home in your hotel.
As I finished my shower, I wondered whether his friends and family were stowing away in my suitcase or perhaps bunking in my briefcase.  Would one liven up my client meeting, peeping out of my pocket with a friendly antenna waggle, as if to shout, "Surprise!"?  I hoped not.
But the most distressing part of this experience was the utter lack of any reaction from your front desk clerk.  Unsurprised and unimpressed, she didn't bother to apologize, express shock, or pretend to refer the problem to your maintenance staff.  "Oh," she said dully, "Here's your receipt."  Requesting that you consider hiring employees who care may be too much to ask, but perhaps you could fill open positions with better actors.
Sincerely,
Elaine Van S. Carmichael
(Result:  A coupon for a free stay at any InterContinental Hotel.)
6)  This rubber's past its sell-by date.
2  January 2011

Dear Mr. Robertson,

Are you still in charge of Eagle TWE? If so, I have a problem I hope you can help me resolve. Almost a year ago I sent my rebate coupon, a self-addressed stamped envelope, and a letter to the rebate address, but have yet to hear back about my condom rebate or about the expired condom I was sold from a vending machine in or near Lynchburg, Virginia.

I have attached a copy of my original letter to this message. Could you see that my rebate and refund or replacement condom is sent?

Sincerely,

A.B. Crowder
(Result: Crowder received eight unexpired condoms.)
7)    A customer complaint in verse.
[Sent to Campbell's Soup Co. in May 1993]
I think that I shall never see
a bone as pointed as is thee.
A bone whose crunch heard in my head
was loud enough to wake the dead.
A bone I found within your soup
I served for dinner to my troop.
A bone that may have choked a cat
was hidden in a piece of fat.
Upon whose label it did not list
the skeletal part that did exist.
Poems are made by fools like me
but only you can the WHOLE turkey.
(Result: Knutson received within 10 days a letter of apology and three $2.00 coupons.)
8)    What have you done to my chewing gum?


Wm. Wrigley Jr. Company
Peoria, IL
As a loyal Extra® Peppermint sugarless gum chewer for the last 14 years, I am dismayed by two changes that have recently been made to the Extra® product line. The first, and less egregious, was the switch from off-white gum, to blue. Normally, a cosmetic change such as this would have little to no effect on my chewing gum purchasing preferences. However, it appears that the coloration has altered the flavor somewhat.  I may be mistaken, but from my most recent package, it seems the taste does not last nearly as long as it once had. As early as last year I can recall recommending your Peppermint chewing gum to a good friend, lauding its long lasting flavor.  Alas, I can no longer stand by that recommendation, as your recent changes to the makeup of the product have rendered it a shadow of its former self. The new blue concoction lasts only a fraction of the time, about an hour, if that, and dissolves quickly. I may be incorrect in saying that the chemistry of the gum has changed, it could very well be that my taste buds have simply aged, and that the gum has remained the same after all these years. I hope the latter is the case here.
The second, and much more objectionable alteration is the new packaging. The five stick multipack was the perfect size.  They were readily available in bulk at the local supermarket, provided enough gum for myself and a few pieces given away during a normal day, and fit comfortably in a pocket with keys and chapstick. The new packaging scheme is, and I regret I must use such a harsh word, an abomination. At no time in my life have I ever needed 15 pieces of gum in one day, much less at one time. I have never been in a situation that has warranted me chewing nor distributing among friends, such an enormous quantity of chewing gum. The box is large, heavy, difficult to operate and an inconvenient shape. It is similar to carrying a second cell phone in a different pocket, which I assure you I have no intention of doing. Were I a female, a purse would provide ample space for this new larger sized container. Unfortunately, being a man, with pocket space at a premium, I simply do not have the capacity to be carrying around such an ungainly object, in addition to my regular compliment of keys, cell phone, wallet and chapstick. One may argue that a front shirt pocket is the perfect size and shape to carry gum of this dimension. Unfortunately, not all of my clothing has a front pocket, and on those days when I am without, I would prefer not to overload my already burgeoning pants with excessive accessories.
In conclusion, I would like to say this. I have encountered many people in my life who have been loyal and stalwart Extra® gum chewers. We have remained with Extra® through all the new trends, fancy packaging, upstart companies, and gimmicks. I would very much like to stay with Wrigley's and continue enjoying your once fine product, however, given the circumstances, it may be time for a change. 
Very truly yours,
Benjamin D. Brooks
(Result: Brooks received a voucher for $1.46.)
9.)    Say it ain't so, eBay!
Complaint Description - Posted 7/6/2010 9:39:31 AM
I purchased a memory card via eBay using Paypal. It turns out that the memory card was fake (which apparently is an ongoing eBay scheme). After receiving in writing from the seller that the item was indeed fake, I filed a complaint with Paypal. Paypal told me that they had decided the case in my favor - and that I needed to return the item to the seller at my own expense to receive my refund. Despite finding this morally inappropriate (returning a fake item to a fraudulent seller at the buyer's expense - is basically giving a thief a free pass) - but I decided that the $35 I spent on the item was more important to me than my moral indignance and the $6 in return shipping. I provided Paypal with the tracking information required in order to receive my refund (the only stipulation to receiving my refund), well before the date requested, and the claim was to remain open until July 5th. On June 27th I received an email stating the case was arbitrarily closed and decided in the seller's favor. Despite, having been GUARANTEED a refund if I return the item, paying for the item, AND RETURNING THE ITEM TO THE SELLER. Meaning the seller has his cake and ate it too, and the innocent buyer was now out $40, with NO ITEM TO SHOW FOR IT (even a fake!). I contacted Paypal to appeal the case, and I have now received an email stating that I should contact the seller and try and work it out directly with them.
I purchased an item advertised as 100% original, and it was a fake. I was guaranteed a refund by Paypal that was never received!
Refund my purchase (as any other establishment that respects itself would do) if the item was returned, as requested within the required timeframe.
(Result: Full refund and an apology from PayPal.)
Thank you for voting in our poll. It's now closed. Please see the results below. (Note: A technical glitch has caused the percentages to display improperly. But the raw-vote totals are correct.):
Correction, Feb. 1, 2011: An earlier version of this column misspelled A.J. Tosyali's name. (Return to the corrected sentence.)