The Gripe Sweepstakes
Customer complaint letters: Pick the winner!
5)    The cockroach in my shower.
Ms. Chrystal  Harradon, Manager
Holiday Inn Express
Temple, TX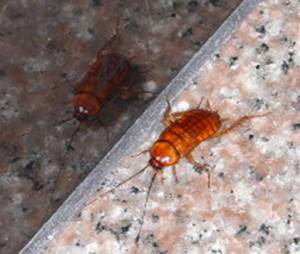 When the lovely creature at [left] crawled into the shower with me during my recent stay at your hotel (2/5-2/6/08, room 102), I was flabbergasted by his (her?) audacity. Obviously, I was the interloper; even after I snapped a towel at my new roommate and sent him sailing across the bathroom, he continued exploring the perimeter, a cocksure cockroach clearly at home in your hotel.
As I finished my shower, I wondered whether his friends and family were stowing away in my suitcase or perhaps bunking in my briefcase.  Would one liven up my client meeting, peeping out of my pocket with a friendly antenna waggle, as if to shout, "Surprise!"?  I hoped not.
But the most distressing part of this experience was the utter lack of any reaction from your front desk clerk.  Unsurprised and unimpressed, she didn't bother to apologize, express shock, or pretend to refer the problem to your maintenance staff.  "Oh," she said dully, "Here's your receipt."  Requesting that you consider hiring employees who care may be too much to ask, but perhaps you could fill open positions with better actors.
Sincerely,
Elaine Van S. Carmichael
(Result:  A coupon for a free stay at any InterContinental Hotel.)
6)  This rubber's past its sell-by date.