Sponsored content provided by

Five Countries to Watch
Africa's rapid growth is not affecting the continent equally. Here's a look at five African countries that represent some of the brightest spots.
Ethiopia is an example of a non-resource-rich country with an economy that nonetheless grew at an average of 11% between 2004 and 2011. According to the World Bank, this is based on its government's public sector investments in agriculture, industrialization, and infrastructure. Government investments in hydropower have made Ethiopia a net exporter of electricity to neighboring countries such as South Sudan and Djibouti. And with a population of 85 million, Ethiopia is sub-Saharan Africa's second most populous country, after Nigeria.
With that population expected to reach 100 million by 2020, Ethiopia represents a huge market that is expected to drive economic integration in the region and growth for its neighbors. In addition, the country has been praised for making progress in all areas of the Millennium Development Goals (ending poverty, hunger, and disease). The Ethiopian government estimates that poverty declined from 38.7 % in 2004 to 29.6% in 2011. As a result, Ethiopia has laid the foundations for sustainable growth and even emerging economy status.
While these five economies represent some of the brightest spots on the continent, others are waiting in the wings, particularly those that are rich in resources. The World Bank notes that the combined benefits of a peace dividend and iron ore exports in Sierra Leone, for example, have led to a 25% growth rate over the course of 2012. Similarly, in Niger, uranium and oil exports have led to a 15% growth rate this year.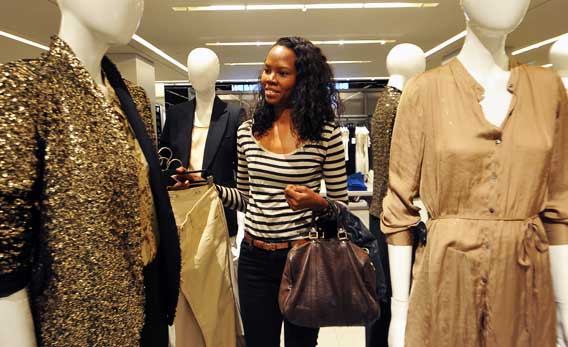 According to the October 2012 edition of Africa's Pulse, a World Bank publication, at least 10 countries are expected to join the 21 in sub-Saharan Africa that the bank classifies as MICs. Among those predicted to be upwardly mobile are Kenya, Tanzania, and Rwanda, where the discovery and development of new reserves of oil, gas, and other minerals, is expected to accelerate growth.
Terra Lawson-Remer, a Fellow for Civil Society, Markets & Democracy at the Council for Foreign Relations in Washington, D.C., cautions not to paint Africa's growth story with "too broad a brush stroke." She notes that most of the countries that have registered rapid growth rates are resource-rich, and have benefited from high commodity prices in recent years.
Emira Woods, co-director of Foreign Policy in Focus at the Institute for Policy Studies, also cautions against focusing too much on growth rather than equity. She notes that, "We are seeing growing inequality both within and among countries." This inequality is compounded by the rising expectation among the poor for wealth-sharing that, if not met, could lead to political instability.
"This is the reason we have protests in Nigeria, Tahrir Square [in Egypt], Sudan, and Tunisia," Woods said. "The current labor uprising in South Africa also shows evidence of the problem of expectations [and] of inequality."
Nevertheless, there are strong signs for the continent as a whole. Lawson-Remer suggests the downturn in Europe's economic fortunes means that "capital looking for investments has to go elsewhere." Thanks to Africa's growing economies, high rate of return, and abundance of natural and human resources, Western conglomerates like IBM, Nokia, and Nestlé are investing heavily. And China's interest shows no sign of waning. The country's trade with Africa is expected to hit $220 billion in 2012—a 25 % growth rate annually—and its former vice-minister of commerce, Wei Jianguo, told China Daily that Africa will surpass the U.S. and the E.U. to become China's largest trading partner.
Woods argues that, across the continent, technological development will be the "way of the future." She points to innovations such as mobile banking and the massive penetration of mobile phone technology, as positive developments. "The combination of the fast-growing youth bulge—workers aged 16 to 30—and technological innovations are positive and bode well for the continent," Woods said.