Cremation in America
A state-by-state map.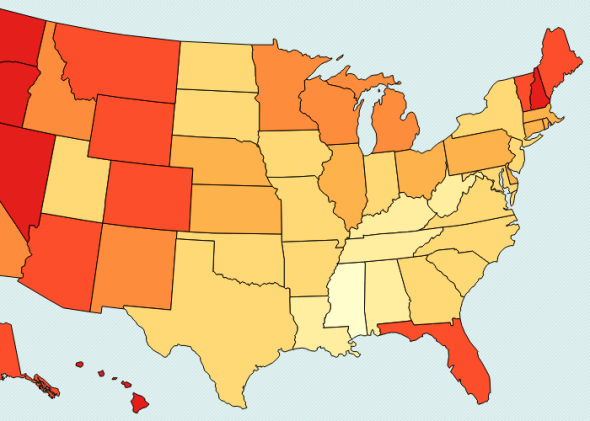 This is a mobile-friendly version of the map. For the full interactive, which animates and allows you to select different years, visit this page on a larger platform.
Cremations per year as a percentage of deaths
►
— Click to select year
Interactive by Andrew Kahn and Chris Kirk
A half-century ago, nearly everyone who died in the U.S. was buried. Only about 4 percent were cremated. Now, we cremate half our dead. The map above shows cremation rates by state and animates over the past 15 years; during that relatively brief timespan in several states—particularly in the South and Midwest—cremation rates have doubled. Why the shift?
Money is the biggest reason. "The vast majority of people are looking at value," says Barbara Kemmis, executive director of the Cremation Association of North America. The average cremation with a memorial service is $3,250 while the average funeral is $7,045, according to the National Funeral Directors Association. As the map shows, cremation tends to be more popular in coastal and mountain regions, where land for gravesites is more expensive. Kemmis notes that there seems to be an increase in so-called direct cremation, the cheapest means of disposal, in which you skip the memorial service altogether.
Another influence on cremation-vs.-burial rates is the fact that families are more dispersed than in the past, making it harder to visit gravesites, Kemmis says. Unsurprisingly, cremation rates are highest in places full of newcomers (such as California) and retirees (Florida, Nevada). Meanwhile, spiritual views of the body and soul have also changed. Christians historically believed that the body should be preserved whole in the hopes of reunification with the soul at the end of days, says Stephen Prothero, author of Purified by Fire: A History of Cremation in America. But the '60s ushered in a wave of New Age notions that reflected a new view of the body as subordinate to the soul, like reincarnation, karma, and transcendence. Cremation acquired a "countercultural cachet"—it was giving the "middle finger to God," according to Prothero. (The Catholic Church eased its restrictions on cremation in 1963 but still looks down on it.) As the counterculture has gone mainstream, so has cremation. As the map shows, states tend to gather momentum on cremation rates fairly quickly. Kemmis calls this the "new tradition" effect: Once the first family member is cremated, the taboo is broken and other family members follow suit.
Cremation is more environmentally friendly than burial, and it's easier to "customize," as Kemmis puts it. You can enshrine cremated remains in customs urns or jewelry; you can spread them across a beloved landscape, or two, or three; you can divide them among multiple family members. You can embed them in a painting. Prothero once met a family that had packed some cremated remains into a bullet for hunting deer. "You dream it, you can do it with cremated remains," Kemmis says, adding, "sorry, I get really excited about this stuff."