The Secret Life of a Food Stamp
The biggest winners of the SNAP economy are the ones the government won't tell you about.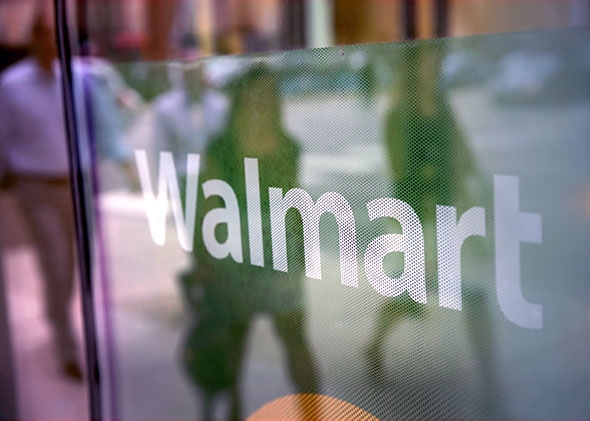 This is Part I in the Marketplace series "The Secret Life of a Food Stamp." You can listen to the series here.
Last night, as the clock struck midnight to end the month, some lines of computer code triggered a series of financial transactions that have a profound effect on the American economy. In that instant, hundreds of millions of dollars—taxpayer dollars—were automatically downloaded onto debit cards tucked into wallets and purses of people across America.
Depending on what state you live in, the same thing will happen at different midnights throughout the month, until 47 million Americans living near the poverty line have received their monthly allotment of food stamp dollars—on average, about $130 per person. Once they get that money, some people will start spending it within minutes.
It was 12:30 a.m. and snowing when I met Yolanda Ballard and her 8-year-old son recently, pushing a shopping cart full of groceries toward their car in a Walmart parking lot in Dayton, Ohio. "This little dude right here needs breakfast in the morning, so you just come at night and get it over with," she said.
Ballard is a widow in her 40s, with a part-time job at the discount store Dollar General, where she tries to get as many shifts as she can.
Ballard's food stamp card, officially known as an Electronic Benefit Transfer, or EBT, card, had been recharged with $340 that night, a moment she'd been anticipating. As frugal as she tries to be, her food stamps usually run out by the third week of the month. "Then you're kind of putting stuff together and trying to make stuff happen until your stamps come," she said.
One in seven Americans uses food stamps today—that's more than twice 2000's number. The fastest-growing group of participants is people like Ballard: people with jobs, who work all year round. Many of these workers are employed by big retail chains that take in tens of billions of dollars in food stamps.
In politics and in the news, a lot of focus is put on the many Yolanda Ballards of America. Whether they deserve the food stamp money they get. What they spend it on. Whether they abuse the system. Those were the kinds of questions clinging to recent debates in Congress over funding for food stamps. But throughout those debates, which resulted in more than $8 billion in cuts to the program over the next decade, one subject got relatively little attention: what happens to those food stamp dollars after people like Yolanda Ballard swipe their EBT cards and the money becomes store revenue.
Last year $76 billion flowed from the U.S. Treasury to people's food stamp cards. That money then flowed into the revenue streams of about 240,000 stores across the country, all of which have been approved by the federal government to accept food stamps, officially known as the Supplemental Nutrition Assistance Program. You can look at SNAP as a government subsidy with two lives. First, low-income people enrolled in the program get financial help to buy food. Then, when they swipe their EBT cards at the checkout counters, the government pays those stores for that food—which is, of course, being sold at a profit.
So it seems worthwhile to pay attention to how this "second life" of a food stamp subsidy works. There's just one problem: A lot of the information about how stores benefit from food stamps is confidential.
Even basic facts such as how many food stamp dollars go to a particular store in a particular location are not publicly available. For their part, stores don't like to volunteer the information. "We don't provide our market-share data on any categories like that—it's generally proprietary in nature," explains David Tovar, vice president of communications for Walmart, which caters to low-income customers and takes in a giant share of food stamp dollars. "I think any information that a retailer shares about how they're serving customers and how they're going to market would be interesting to lots of other retailers."
But say you're not a retailer—you're just someone who wants to know where $76 billion of your tax dollars are going. For you it might be useful to know which companies profit the most off this federally funded program that Congress created to fight hunger. You might wonder: In what stores and neighborhoods are the most food stamp dollars spent? What kinds of foods do those stores promote and sell? What are the store's business and labor practices? The answers to those questions might help you see how food stamp subsidies are serving a community—if they're doing what they were meant to do.