House of Cards
A podcast with William D. Cohan.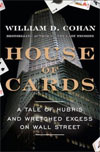 Subscribe to the "Every Day I Read the Book Podcast" on iTunes.
TODAY IN SLATE
Politics
Talking White
Black people's disdain for "proper English" and academic achievement is a myth.
Operation Backbone
How White Boy Rick, a legendary Detroit cocaine dealer, helped the FBI uncover brazen police corruption.