Longform's Best Business Stories of 2012
The inner workings of a drug cartel, the online-shipping industry, and Apple.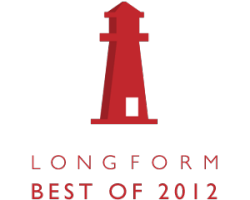 This week, we'll be sharing our favorite articles of the year on Slate. For our full list—including the top 10 of the year, plus picks in sports, politics, tech and more—check out Longform's Best of 2012.
How a Mexican drug cartel makes its billions.
"The drug war in Mexico has claimed more than 50,000 lives since 2006. But what tends to get lost amid coverage of this epic bloodletting is just how effective the drug business has become. A close study of the Sinaloa cartel, based on thousands of pages of trial records and dozens of interviews with convicted drug traffickers and current and former officials in Mexico and the United States, reveals an operation that is global (it is active in more than a dozen countries) yet also very nimble and, above all, staggeringly complex. Sinaloa didn't merely survive the recession — it has thrived in recent years. And after prevailing in some recent mass-casualty clashes, it now controls more territory along the border than ever.

" 'Chapo always talks about the drug business, wherever he is,' one erstwhile confidant told a jury several years ago, describing a driven, even obsessive entrepreneur with a proclivity for micromanagement. From the remote mountain redoubt where he is believed to be hiding, surrounded at all times by a battery of gunmen, Chapo oversees a logistical network that is as sophisticated, in some ways, as that of Amazon or U.P.S.—doubly sophisticated, when you think about it, because traffickers must move both their product and their profits in secret, and constantly maneuver to avoid death or arrest. As a mirror image of a legal commodities business, the Sinaloa cartel brings to mind that old line about Ginger Rogers doing all the same moves as Fred Astaire, only backward and in heels. In its longevity, profitability and scope, it might be the most successful criminal enterprise in history."
How the U.S. lost out on iPhone work.
"Not long ago, Apple boasted that its products were made in America. Today, few are. Almost all of the 70 million iPhones, 30 million iPads and 59 million other products Apple sold last year were manufactured overseas.
"Why can't that work come home? Mr. Obama asked.
"Mr. Jobs's reply was unambiguous. 'Those jobs aren't coming back,' he said, according to another dinner guest."
How a loathsome band makes gobs of money.
"In addition to masterminding Nickelback's ascent, Kroeger, 37, has found ways for his band to make money onstage and off, through licensing, merchandising, and product-placement agreements. He's also helped groom many other acts, including some that the haters might even like. He co-owns the record company that released Carly Rae Jepsen's ubiquitous summer smash, Call Me Maybe. He co-writes songs for other major artists and helps to promote them. As of May 2011, the rock-star-cum-business-mogul was earning $9.7 million a year from his various ventures, according to court records filed with the Supreme Court of British Columbia. He has a vacation home with friends in Cabo San Lucas, Mexico, a 20-acre farm with stables in British Columbia, and his own home recording studio. Chad Kroeger is not just a drunken rock god: He's a kingmaker."
Reporting undercover from inside the online-shipping industry.
"Still, she advises, regardless of how much they push me, don't work so hard that I injure myself. I'm young. I have a long life ahead of me. It's not worth it to do permanent physical damage, she says, which, considering that I got hired at elevensomething dollars an hour, is a bit of an understatement.
"As the sun gets lower in the curt November sky, I thank the woman for her help. When I start toward the door, she repeats her 'No. 1 rule of survival' one more time.
" 'Leave your pride and your personal life at the door.' If there's any way I'm going to last, she says, tomorrow I have to start pretending like I don't have either."
Frank Firetti, a 54-year-old pool salesman in Virginia, and his fading American dream.
" 'Selling is winning,' he liked to say.
"But now the wins came much less frequently, and customers wanted to talk more about warranties and payment plans. Many of them owed more on their mortgages than their homes were worth, and most banks considered it too risky to lend tens of thousands of dollars for a swimming pool.
"Frank had tried to compensate by lowering his prices and improving the quality of his work, raising Blue Haven's rating with the Better Business Bureau from an F under previous ownership to an A-minus. He had taped a copy of a Native American poem about fearlessness to the first page of his appointment book. He had also taken to repeating an aphorism, a company goal that sounded more like a prayer when he said it now, as he stepped out of his car onto the sidewalk.
" 'This will be a good business if we can sell a hundred pools this year,' he said.
" 'A hundred pools,' he said again. Then he walked up the driveway and knocked on the door."