The Longform Guide to Facebook
The best stories about Mark Zuckerberg and his company.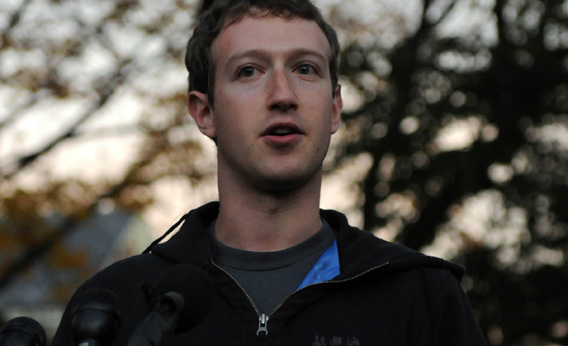 There are more articles about Facebook in our archives than about any other company, and with good reason: Mark Zuckerberg and his behemoth make for some great copy. Here are a few of our favorites, with a particular focus on Facebook's evolving relationship with money over the years.

Kevin J. Feeney • Harvard Crimson • February 2005

A story in the student newspaper about a dropout and a few friends who were in California working on something called TheFacebook, which after a year had 1.5 million users:

"In the end, Zuckerberg says, quarrels over money rarely come up because money is not their priority.

" 'We're in a really interesting place because if you look at the assets we have, we're fucking rich,' Zuckerberg adds. 'But if you look at like the cash and the amount of money we have to live with, we're dirt poor. All the stuff we own is tied up in random assets' like servers and the company itself.

" 'Living like we do now, it's, like, not that big of a deal for us. We're not like, Aw man, I wish I had a million dollars now. Because, like, we kind of like living like college students and being dirty. It's fun.' "

John Cassidy • The New Yorker • May 2006

One of the first major profiles of Zuckerberg, as Facebook was beginning the transition away from only serving college students and trying to figure out a way to compete with the then-king of social networks, MySpace:

"Breyer said that Facebook hopes eventually to become a public company. A successful initial public offering would allow the firm to repay its financial backers; Zuckerberg could retain control of the firm, just as Bill Gates retains control of Microsoft. Still, remaining an independent company in the hope of eventually doing an I.P.O. is far riskier than selling to Viacom or Google, both of which are rumored to be interested. Young Internet users are notoriously fickle. In 2003, Friendster, which is aimed at educated twenty-somethings, was the most popular social-networking site. Today, it gets less than a tenth of the traffic that MySpace gets, while new sites like YouTube, which allows users to share videos, are showing astonishing growth.

"In order to sell stock to the public, Facebook will have to demonstrate that it can continue to grow. This may be difficult, because its core market appears to be approaching saturation, at least in the United States. In March, according to comScore Media Metrix, the site had 12.9 million unique visitors, only slightly more than the 12.4 million visitors it had in December, 2005. During the same period, MySpace's audience grew from about forty million to sixty million. Melanie Deitch, Facebook's marketing director, acknowledged a slowdown, but described it as temporary. 'Even though we have one hundred per cent of the four-year colleges and universities, we don't even come close to capturing all of the junior colleges and community colleges,' Deitch said."

Claire Hoffman • Rolling Stone • June 2008

And the Facebook origin story becomes a point of contention:

"The legal challenges to Zuckerberg's empire paint a curious picture of the man who has put himself in charge of our social future. One of the world's most popular networking tools was launched by a brilliant but ostracized nerd sitting alone in a dorm room. From his days at Phillips Exeter Academy, where he was known as the prep school's top programming impresario, Zuckerberg has drawn on a powerful combination of isolation and entitlement to surpass his peers. He is a Nietzschean superdork for the digital age—a college student who gamed the system, propelled by a primal understanding of how to program computers to serve human needs. Whatever the outcome of the legal wrangling, the battle over the origins of Facebook prompts a fundamental question: Is Mark Zuckerberg's social-networking empire, like so many other great fortunes in history, founded on a crime?"

Alex French • GQ • December 2008

Two unusual themes: Zuckerberg sounding New Agey and Facebook seeming financially vulnerable:

"There's a myth in Silicon Valley that you get only one Big Idea and that your future is determined by what you make of it: If you miss your opportunity to make it rich, something else will come along and pass you by. This, in part, explains why Zuckerberg has had such a hard time relinquishing control of Facebook—if he's only going to get one run at becoming a Bill Gates or a Sergey Brin, why not let things run their course?

" 'I think Mark is quite adamant about not selling Facebook,' Kara Swisher says. 'But I think a lot of his employees are quite adamant that he do. He needs to prove to them that they're going to get paid. At this point, though, they can't possibly have an IPO, because their results just aren't good enough. A lot of high-ranking [Facebook] employees are biting their nails.' If Zuckerberg were to turn down an offer of, say, $10 billion or more, havoc would ensue at Facebook headquarters. Zuckerberg would face enormous pressure from investors and employees scared that an IPO would never capture the same kind of payday. Earlier this spring, rumors of a $20 billion offer from Microsoft were floating around, but nothing ever materialized. At the time, Swisher and her tech-industry sources thought that if and when Zuckerberg got a $10 billion or $15 billion offer, he should sell and walk away a Mark Cuban–esque legend. But with the global economy in crisis, it's no longer likely that Zuckerberg will get an offer anywhere near that range. The IPO market has virtually disappeared, the venture-capital market is soft, and tech stocks are tanking—but Facebook still has Microsoft's $240 million investment to live off of for now. Zuckerberg's answer to the financial crisis came in a recent e-mail to his employees, the gist of which was: Keep building great products that help make the world more open and connected; continue to provide value to all of our users, developers, and advertisers."

Ken Auletta • The New Yorker • July 2011

A profile of COO Sheryl Sandberg:

"When Sandberg arrived at Facebook, she admits, some insiders had a 'sense of trepidation' about her. They wondered whether she was too corporate, and she was stepping into a company—and a Silicon Valley culture—dominated by men. But her biggest worry, she says, was financial. 'There was this open question: Could we make money, ever?' The engineers, as at Google a decade earlier or Twitter now, were primarily interested in building a really cool site; profits, they assumed, would follow. The company's most obvious business—selling ads—seemed problematic. Users considered their Facebook pages to be private; they didn't want an ad interrupting them as they chatted with friends. Some people wondered whether Facebook was just a meteor that, like Myspace, would crash. Others thought that Zuckerberg, who was painfully shy, lacked the management skills necessary for success.

"Sandberg quickly began trying to figure out how to make Facebook a business. Should the company rely on advertising? On e-commerce? Should it charge a subscription fee? She convened regular meetings with senior executives from 6 to 9 P.M. 'I go around the room and ask people, 'What do you think?' Sandberg said. She welcomed debate, particularly on the issues of revenue and advertising. By late spring, everyone had agreed to rely on advertising, with the ads discreetly presented. By 2010, a company that was bleeding cash when Sandberg arrived had become profitable. Within three years, Facebook grew from a hundred and thirty employees to twenty-five hundred, and from seventy million worldwide users to nearly seven hundred million."

Mark Zuckerberg • January 2012

Zuckerberg's letter to new investors this week:

"Most great people care primarily about building and being a part of great things, but they also want to make money. Through the process of building a team—and also building a developer community, advertising market and investor base—I've developed a deep appreciation for how building a strong company with a strong economic engine and strong growth can be the best way to align many people to solve important problems.

"Simply put: we don't build services to make money; we make money to build better services."