Published by
At This Year's US Open, Tennis Data is Creating Music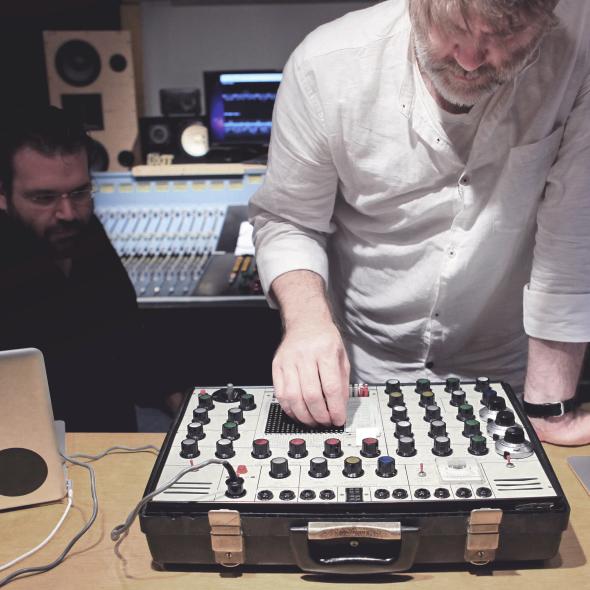 What would a tennis forehand sound like as music in the hands of James Murphy, the legendary front man of the now defunct electro-punk band LCD Soundsystem? How about an ace? Or better yet, what about a three- or four-hour knock down, drag out battle between Novak Djockovic and Roger Federer?
That's what we're about to find out. Murphy can't seem to help himself from hearing music in almost every aspect of life (just consider how long he's been dreaming about making New York City's subway turnstiles chime symphonically as riders swipe their fares and pass through them).
So now, at this year's US Open in New York, from Aug. 25 through Sept. 8, Murphy is going to transform racquet strokes from the tournament's tennis matches -- the whipping forehands, the split second volleys, the tense double faults -- into individual sounds that will be woven together into entirely new and unpredictable sound tracks.
Called US Open Sessions, the music will be posted on ibm.com/usopen as it's being created during every match. Fans attending USTA's Billie Jean King National Tennis Center can stop by a listening booth and hear the tracks live. And after all the drama of the Open's two week tournament is over, Murphy will cut a full album of 14 songs, re-mixed from the longer tracks generated during all 244 matches from the tournament.
It's music interpreting life at the speed of tennis. A unexpected symphony of sounds created live as each match unfolds. It will be an entirely new way of experiencing the explosive play, the lulls, the dramatic give and take between the world's top tennis athletes. One set in motion by one of today's most thoughtful and creative crafters of music.
And why not, if as Murphy has said, music makes us happy, it transports us. A few months or a years from now, this music will give color to fans' memories of the perfect late summer afternoon spent courtside at Arthur Ashe. The music will allow fans hitting balls in a local park another way to live their own game. And it will give music fans a peek into Murphy's imagination and experimental creative process.
The music is a way of expressing all the large amounts of big data generated, in this case, by a sporting event. To capture, transform, distribute and archive this data made music, IBM deployed a hybrid cloud environment capable of keeping up with the lightning fast serves of a tennis match. The system is built on and distributed over the IBM cloud, so that these bits of information are transformed into music quickly.
But nearly as interesting as the music is that people will be able to follow the US Open Sessions system in action online, watching each individual piece of play illustrated as a moving graphic as it's turned into music. Outside of the matches, fans (of both tennis and Murphy) will be able to experiment online with the algorithms, to explore how each of the different sounds is created, how each different piece of data influences the music.
If sports is a dance of will, stamina, and experience, giving sound to each point will slide a rhythm under the amazing feats these athletes are accomplishing.
Over the past two decades, IBM has been the technology partner of the United States Tennis Association (USTA) to deliver cutting-edge technology for US Open fans, whether they are sitting in the stands at Arthur Ashe Stadium or halfway around the world. New apps and the mobile-friendly web site enables fans to access US Open content from their Apple iPhone, iPad, computer or Android devices.
Murphy, IBM and the USTA are happy for the opportunity to enhance the fan experience of this year's US Open; so that each match is not only a treat for the eyes and now also a feat for the ears.
To learn more about US Open Sessions go to ibm.com/usopen and join the conversation at #ibmsessions)
Bio: Lysa Banks joined IBM in 2005 after graduating summa cum laude from New Jersey Institute of Technology (NJIT) with a Bachelor's of Science in Computer Engineering and minor in Applied Mathematics. During her time at IBM, Lysa has held several diverse positions in the areas of software development, management, corporate technical strategy and cloud architecture. She is a subject matter expert in Cloud Computing, Web Services, Service Oriented Architect (SOA) and Online Transaction Processing. Lysa is currently the Lead Architect for Industry Cloud Solutions reporting into the CTO of IBM's Cloud Serviced Division. In her role, Lysa combines domain knowledge of specific industries with cutting edge technology to deliver end-to-end solutions and innovation that matters.