Extra: The ex games.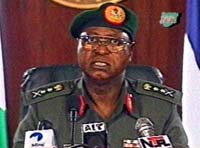 Nigerian military ruler Gen. Abdulsalam Abubakar has called elections for early next year and pledged to relinquish power to a civilian government by May. American editorialists protested the transition is too slow, but Nigerians count themselves lucky, since previous "transitions" have been slower and illusory. The spins: 1) The transition is a fraud, because Nigerian dictators always lie. 2) This time it will be different, because Abubakar seems like a nice guy. 3) Abubakar is such a nice guy he must be a puppet for other, meaner generals who will cancel or annul the elections if they don't get their way. (7/22/98)
Update on the Tawana Brawley defamation trial: 1) The Rev. Al Sharpton, who has been found liable for defaming Prosecutor Steven Pagones by accusing him of raping Brawley, refused to apologize and depicted the defamation suit as an attempt to silence a brave civil rights martyr, i.e., himself. 2) Brawley may face cross-examination in the damages phase of the trial, now that the judge has ruled that one of the defendants can call her as a witness. The superficial spin: It's not fair to let her testify, since she failed to appear in previous hearings. The sophisticated spin: The defendants were counting on the judge to bar her testimony so they could claim she was being silenced. Instead, the judge is calling their bluff. (7/22/98)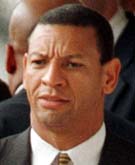 Update on the Monica Lewinsky investigation: 1) Prosecutors are interrogating Secret Service officers before the grand jury, reportedly about Clinton's liaisons with Lewinsky and his meetings with his attorneys. Clinton's chief Secret Service bodyguard, Larry Cockell, has been relieved of duty while he faces questioning. 2) A judge has reportedly ordered Independent Counsel Kenneth Starr to show why he shouldn't be held in contempt of court for allegedly leaking to the press. This would force Starr's prosecutors to answer questions and release documents, possibly derailing his investigation. 3) U.N. Ambassador Bill Richardson told senators it was "very normal" for him to interview Lewinsky personally for a low-level job at the request of a White House aide. The senators reportedly bought it. (For an analysis of the Lewinsky endgame, click here.) (7/22/98)
The online virgins scam has unraveled. "Mike" and "Diane," two supposedly 18-year-old virgins who were going to surrender their virginity live on the Internet, have confessed they aren't 18, aren't virgins, and aren't planning to have sex. In a press conference before angry reporters at a condom shop, they defended their stunt, saying it was meant to be "a moral lesson" and "the biggest public service announcement ever" on behalf of safe sex and abstinence. The company that was hired to transmit the event to computer users says it was a money-making hoax. "Mike" and "Diane" said they hoped the event would launch their careers. They announced their real names, which Slate has mysteriously forgotten. (7/22/98)
The government is soliciting public reaction to a proposed national health identification system. The simplest version would allow each person's medical records to be accessed by inputting his or her Social Security number. Some doctors and insurers say it will help doctors get past information about their patients and will help administrators manage billing information for insurance purposes. Critics on the left and right joined the American Medical Association in denouncing it as a threat to privacy. The Chicago Tribune called it unnecessary, "frightening," and a violation of doctor-patient trust. The government hopes to construct the database in a way that will satisfy privacy advocates, but this seems impossible, since they 1) oppose precisely the easy access meant to justify the database and 2) think insurers will use the information to discriminate against costly patients. (7/21/98)
Conservative and gay rights activists have launched dueling ad campaigns about the ex-gay movement. The conservatives, borrowing from recent remarks by Senate Majority Leader Trent Lott, argue homosexuality is an unhealthy lifestyle from which many former gays have successfully recovered. The gay rights groups claim the ex-gay movement is a public relations front for conservative efforts to discriminate against gays. (For an analysis of the strategic implications of the debate, click here.) (7/21/98)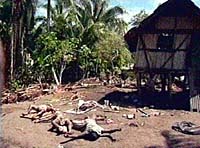 A heat wave across the United States has killed more than 100 people, mostly in Texas. Dallas is beginning its third straight week of temperatures exceeding 100 degrees. Death Valley has reached 124. Illegal immigrants, homeless people, and old folks who are stuck indoors without air conditioning are in the greatest danger. Oklahomans have prayed for divine intervention to no avail. The secular explanation meteorologists have offered for the heat wave--"a persistent anomaly"--is no more satisfying. The bad news: There's no relief in sight for the South. The worse news: The heat is spreading over the Northeast. The good news: We're doing a lot better than Papua New Guinea, where a 23 foot tsunami killed an estimated 3,000 people July 17 and left their corpses to be devoured by crocodiles. (7/20/98)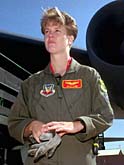 Military officials have proposed to relax their policies against adultery. The proposed changes, prompted by embarrassment over the Kelly Flinn affair and other recent adultery scandals, would reduce the number of prosecutions (by prosecuting only those cases in which the adultery has demonstrably damaged troop morale) and the severity of the discharge imposed on violators. Analysts have identified four schools of thought, in ascending order of laxity: 1) The Marine Corps, which is resisting the loosening of standards because, in the words of a spokesman, "If you can't trust the Marine next to you to remain faithful, how can you trust him on the battlefield?" 2) The Army, which, unlike the other services, thinks officers should be allowed to fraternize with enlisted personnel who are not in their chain of command. 3) Military law critics who prefer the civilian standard, under which adultery is rarely prosecuted. 4) President Clinton. (7/20/98)
The Food and Drug Administration approved thalidomide as a treatment for leprosy complications. Everyone assumes doctors will prescribe it more often for AIDS complications. The real news isn't the approval, which was decided upon months ago, but the elaborate new regime of warnings and restrictions, which are designed to prevent a recurrence of the birth defects thalidomide caused in the 1960s. Analysts credit the new rules to collaboration between the drug's manufacturer (Celgene) and thalidomide victims. Optimists call it a model of cooperation and prudent regulation. The media are taking the opportunity to write once again about stumps and flippers. (7/17/98)
Lockheed Martin dropped its takeover of Northrop Grumman rather than continue to fight a federal antitrust suit. The Justice and Defense departments had argued the merger would imperil national defense by reducing competition. The charitable economic spin: DOD has reversed its policy of encouraging defense industry mergers. The cynical economic spin: Thanks to DOD's encouragement, every company small enough to merge legally has done so, leaving a few behemoths. The charitable political spin, from the Washington Post: It's "a huge victory for the government's re-energized antitrust efforts." The cynical political spin, from Lockheed's CEO: Lockheed backed down from the fight not because it respects the government's authority but because the government is "our biggest customer."(7/17/98)
MYSLATE
Will Saletan covers science, technology, and politics for Slate and says a lot of things that get him in trouble.