Introducing Slate's Revamped iOS App
It's here, and it's awesome.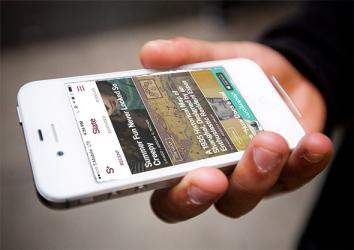 Dear Slate readers: Last week we launched the first major redesign of our iPhone app in two years. It's been a long time coming and we're really proud of it. Here's why we did it and how the app has changed, plus a glimpse into what further improvements we have planned this year.
It must first be said that all of our users are important to us, and we have a responsibility to provide a great user experience across all of our platforms. But for the past few years we haven't had full-time iOS development in-house or a product manager with a heavy focus on it. We'd do work in bursts, whether for a couple of weeks or months at a time, before shifting back to the Web or a new product. The scattered attention left us with an average iOS app. It had bugs, yet it was functional. But that's not how we wanted the app to be perceived internally or by you, our readers. This year we decided to change that.
After beefing up our product management team and bringing on Dana Shakiba, an experienced full-time iOS developer, we were able to begin planning the app that was just released. In between redesigns, the app landscape has changed quite a bit: iOS 7, flat design, interesting effects like parallax (see the images on our home screen for an example), to name a few. Our challenge was modernizing the look and feel while staying true to the Slate brand, making our journalism as easy to read as possible while incorporating our trademark imagery. We also needed to make sure we integrated Slate Plus clearly and seamlessly. We also needed to fix many bugs. Here's a rundown of what we came up with starting with the biggest change: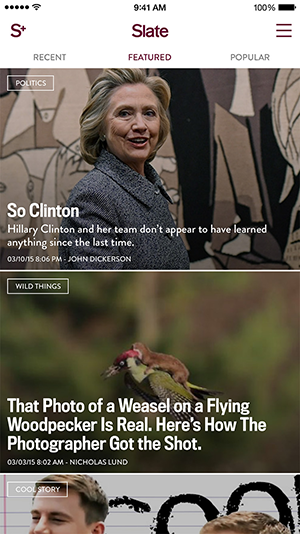 We redesigned the home screen by removing the carousel, enlarging the images, making the most recent stories the focus, and using parallax effects. Every time you open the app we want to make sure you see something new. You can still find the stories that used to be in the carousel under the Featured list.
Slate Plus members can now get Slate Plus content in the app and readers who want to become members can now purchase a membership in the app. We decided to use Apple's In-App Purchase to make it as easy as possible. New members need to create a Slate Plus account after purchase to get access to all of the Slate Plus benefits (currently, the two features you receive without an account are access to Slate Plus content and no ads). We plan on making the full suite of features available on the app later this year.
The color scheme has changed from white on maroon to maroon on white. This has made the app feel lighter and cleaner to read and navigate. We also brought our fonts from the Web into the app. They immediately give the app a polished look.
We fixed the two issues I heard about the most: URLs weren't showing up when you tried to email stories and videos didn't show up. Those were particularly terrible bugs. I'm glad we were able to fix them, as well as resolve a handful of smaller issues.
Under the hood we started to make the iPhone and iPad apps universal. This means there is one app that lives on both the iPad and iPhone. It makes development work faster and easier, and it means that if you sign up for Slate Plus in the app, you can share your account via your Apple ID across devices. With our next iPad app release, you'll be using the universal binary. It's coming very soon.
So what's next? Some of the features and changes you can expect to see in the coming weeks and months are:
Commenting.
Improved push notifications.
Removing the ad banner from the bottom of the page (hooray!)—we'll find different and smarter ways to integrate ads into the app.
Fix (ahem, include) the Slate News Quiz. I hear about this a lot and rest assured we are working on it.
Redesigned story pages and search.
More personalized recirculation links similar to our right rail on the Web version of Slate.com.
Experimentation with native iOS gestures to improve how readers move around in the app.
We even have a new version of the app that should be released in about a week, v4.0.2, that addresses some of the items readers have brought up since v4.0 went live:
Videos can now be played in landscape orientation. This was a bug and you ideally should have never seen the problem to begin with.
We've slightly tweaked the home screen view to make it more readable for some users. Hopefully the text pops a bit more now and parallax effect doesn't feel as drastic.
Added the Political Gabfest to the Podcast listing.
Slate Plus members: For now, we've removed Facebook because there are have been reports of issues logging in. We'll be rereleasing the app in April with the full suite of login options (Facebook, Twitter, Yahoo, etc.)
Push notifications will now work.
The Slate News Quiz doesn't work in the app just yet, but it will in the coming months. For now, we're going to prompt you to play the quiz in the in-app browser. We promise it's an interim solution.
I hope you'll be as pleased with the app as we are and are excited to see the app improve this year. You can download it here. And if you like it, please give us a positive review. There will always be some bugs with a new app, but we hope they are small. If you have feedback, questions, or bug reports, feel free to email ios@slate.com. I'll do my best to respond to as many emails as I can. Even if you don't get a response, I can guarantee your email is being read.
Lastly, please vote in the poll below. We've done these types of product updates sporadically over the years here and would love to know if you'd like to see more of them.