Slate offers a highly desirable audience of high-income, well-educated, and influential readers. Reach this audience through a unique set of advertising products that give advertisers the maximum creative space needed to effectively communicate their message as well as the credibility of being closely associated with best-of-class editorial content.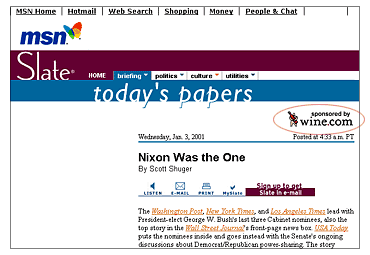 Slate Sponsorship A Slate sponsorship is a prime opportunity to associate an advertiser's product or service with the highest quality content from the nation's leading opinion makers. Slate's sponsorship opportunities offer advertisers unique and prominent placement within areas of the Webzine to communicate their message. Slate is broken into five unique sections: News and Politics, Art and Life, Sports, Business, and Technology. Sponsorships are limited to one sponsor per section to ensure greater visibility and provide maximum awareness.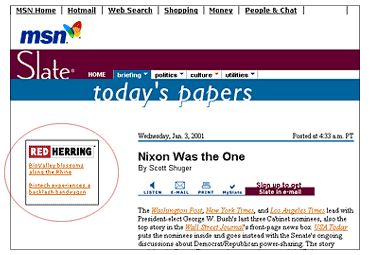 SlateSponsored Headlines An excellent opportunity for content integration on Slate, these headline boxes contain a clickable logo and frequently changeable headlines from the sponsor.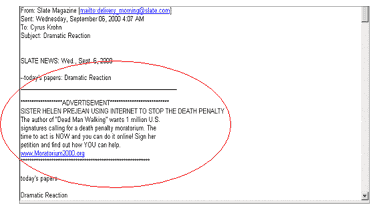 Slate E-Mail Sponsorship This is a text ad that appears in Slate's opt-in daily e-mail servies. Content includes delivery of "Today's Papers"—our roundup of stories from leading newspapers—plus selections ranging from "Moneybox," Cartoons, Culture, "Dear Prudence," and "Sports Nut."Slate also offers an HTML banner option.
The oversized skyscraper ad allows ample space (160wx600h) to run multiple creative executions and extend creative and messaging elements from off-line campaigns.  These large ads run throughout Slate and are ideal for branding, awareness, and lead generation.
This innovative offer is the largest advertising product available on Slate, suited to accommodate clients pursuing branding opportunities or larger creative space to convey more material to consumers. This 240x400 module appears on Slate story-level pages, with content wrapping around the ad element. This ad element allows consumers to navigate within the module without having to leave the page they are on.
Pop-up windows on Slate (250x250) are an ideal way to get in front of affluent, educated, and influential users. Strategically delivered to appear on Slate content pages, pop-up ads offer strong reach and targeting capabilities. To avoid user fatigue, the pop-up windows are on a limited distribution schedule.
Next-Generation Advertising Products
MSN offers rich media solutions that provide a similar large visual feel as print advertisements and offers a great way for advertisers to improve response and brand effectiveness.  For example, pre-expanded banners feature a large 468x335 panel that is automatically pre-expanded beneath the banner on page load and then retracts after 2.5 seconds. It can be expanded again at any time by simply mousing over the banner ad. It has a frequency control of once per user per session across MSN.  Similarly, fly-out inserts feature a large 335x240 panel that automatically flies out from the vertical ad on page load and then retracts after 2.5 seconds. It can be expanded again at any time by simply mousing over the vertical ad. It has a frequency control of once per user per session across MSN.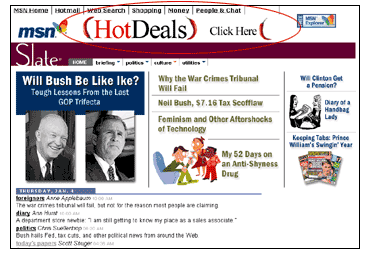 Standard and Enriched Ad Program
Slate's enriched ad types (sticky ads, etc.) as well as standard 468x60 and 120x240 banners provide excellent reach across Slate, the No. 1 rated Webzine on the Internet with over 4.7 million unique users a month. Slate's audience demographics rank among the Web's highest, reaching an affluent, educated, and influential audience.