The Audio Book Club on Caleb's Crossing
Our critics discuss Geraldine Brooks' new novel, Caleb's Crossing.
To listen to the Audio Book Club discussion of Caleb's Crossing, click the arrow on the player below.
You can also download the audio file here or subscribe to the Audio Book Club podcasts feed via iTunesor directly with our RSS feed.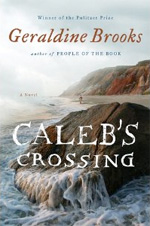 Slate editors Emily Bazelon and Hanna Rosin and The New Yorker's Margaret Talbot discuss Pulitzer Prize winner Geraldine Brooks' latest historical novel, Caleb's Crossing. The novel describes a Native American's journey from his tribe on the island of Martha's Vineyard to the early Harvard College and is narrated by Bethia Mayfield, a young missionary's daughter. Rosin muses about where Bethia fits in the annals of literary heroines. Talbot thinks the novel is more like young-adult fiction, and Bazelon discusses how Brooks handles the noble-savage trope.
You can listen to any of our previous Audio Book Club meetings through our iTunes feed or by clicking on the links below. To download the MP3 file, right-click (Windows) or hold down the Control key while you click (Mac), and then use the "save" or "download" command to save the audio file to your hard drive.
Questions? Comments? Write to us at podcasts@slate.com. (Emailers may be quoted by name unless they request otherwise.)