The Audio Book Club on Moonwalking with Einstein.
Our critics discuss Joshua Foer's new book on memory.
To listen to the Audio Book Club discussion of Joshua Foer's Moonwalking with Einstein, click the arrow on the player below: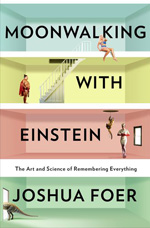 In this week's audio book club, Slate's Daniel Engber, David Plotz, and Hanna Rosin discuss Joshua Foer's Moonwalking with Einstein, about his quest to compete in the U.S. Memory Championships, and what he learned about the human brain along the way. The editors discuss whether Foer proves that these memory techniques are useful just for this freakish subculture or have wider applicability. They also discuss Foer's impressive reporting on Daniel Tammett, who claims to be a savant. Engber recommends the book especially for older people who might think memory loss is inevitable.
You can listen to any of our previous Audio Book Club meetings through our iTunes feed or by clicking on the links below. To download the MP3 file, right-click (Windows) or hold down the Control key while you click (Mac), and then use the "save" or "download" command to save the audio file to your hard drive.
Questions? Comments? Write to us at podcasts@slate.com. (Emailers may be quoted by name unless they request otherwise.)