The Audio Book Club on Remainder
Our critics discuss Tom McCarthy's Remainder.
Posted Monday, Nov. 15, 2010, at 7:09 AM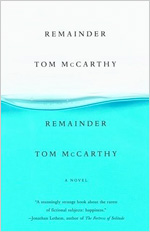 To listen to the Slate Audio Book Club discussion of Tom McCarthy's Remainder, click the arrow on the player below.
Get your 14-day free trial of Audio Book Club sponsor Audible.com, which includes a credit for one free audiobook, here.
This month, Michael Agger, Meghan O'Rourke, and Troy Patterson discuss Tom McCarthy's Remainder. Savvy listeners will wonder why the book club decided to mull over McCarthy's 2005 debut instead of his latest novel, C, which was released earlier this year. The explanation is simple: They thought the debut would be more fun.
In Remainder, an unnamed narrator receives a hefty financial settlement—of 8.5 million pounds—after a vague accident ("something falling from the sky"). With his newfound wealth, he decides to painstakingly replicate half-remembered scenes from his past (which may not really be memories at all, but visions). These enactments, or in some cases re-enactments, somehow allow the narrator to feel that he's living more authentically. It's a complex, philosophical novel, which our book club, on the whole, rather liked.
You can listen to any of our previous club meetings through our iTunes feed or by clicking on the links below. To download the MP3 file, right-click (Windows) or hold down the Control key while you click (Mac), and then use the "save" or "download" command to save the audio file to your hard drive.
Questions? Comments? Write to us at podcasts@slate.com. (E-mailers may be quoted by name unless they request otherwise.)
MYSLATE
Michael Agger is a Slate senior editor. Follow him on Twitter. E-mail him at Michaelagger1@gmail.com.
Meghan O'Rourke is Slate's culture critic and an advisory editor. She was previously an editor at The New Yorker. The Long Goodbye, a memoir about her mother's death, is now out in paperback.

Troy Patterson is Slate's television critic.