The Audio Book Club on Reality Hunger
Our critics discuss David Shields' new manifesto.
Posted Monday, June 21, 2010, at 9:31 AM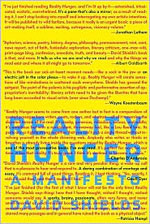 To listen to the Slate Audio Book Club discussion of David Shields' Reality Hunger, click the arrow on the player below.
Get your 14-day free trial of Audio Book Club sponsor Audible.com, which includes a credit for one free audiobook, here.
This month, the Audio Book Club discusses David Shields' Reality Hunger: A Manifesto. Composed of 618 fragments, many of them unattributed quotations, Reality Hunger is Shields' attempt to bring the novel up to date. Musicians "sample," documentarians mix news footage with interviews—shouldn't authors experiment with appropriation as well? Our critics' first question: Is this really a "manifesto"? Meghan O'Rourke, Jody Rosen, and Troy Patterson are all a bit skeptical of Shields's project.
By the way, Troy Patterson would like to note that his head was full of pollen on the day of recording and was therefore rather grouchy. He stands by his comments but acknowledges he was in a generally rude state of mind.
Slate's Audio Book Club comes to you on the third Monday of every month. Our July pick is Bret Easton Ellis' Imperial Bedrooms. Look for our discussion on iTunes or on the Slatehome page on Monday, July 19. Also, like the Audio Book Club on Facebook.
You can also listen to any of our previous club meetings through our iTunes feed or by clicking on the links below. To download the MP3 file, right-click (Windows) or hold down the Control key while you click (Mac), and then use the "save" or "download" command to save the audio file to your hard drive.
Questions? Comments? Write to us at podcasts@slate.com. (E-mailers may be quoted by name unless they request otherwise.)
MYSLATE
Meghan O'Rourke is Slate's culture critic and an advisory editor. She was previously an editor at The New Yorker. The Long Goodbye, a memoir about her mother's death, is now out in paperback.

Troy Patterson is Slate's television critic.
Jody Rosen is Slate's music critic. He can be reached at slatemusic@gmail.com.