The Audio Book Club on To Kill a Mockingbird
Our critics discuss Harper Lee's classic novel on its 50th anniversary.
To listen to the Slate Audio Book Club discussion of Harper Lee's To Kill a Mockingbird, click the arrow on the player below.
You can also download the audio file here, or you can subscribe to the Slate Audio Book Club feed via iTunes or directly with our RSS feed.
Get your 14-day free trial of Audio Book Club sponsor Audible.com, which includes a credit for one free audiobook, here.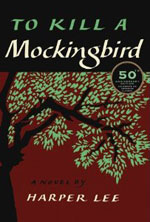 This month, the Audio Book Club discusses To Kill a Mockingbird, Harper Lee's classic, and only, novel on the occasion of its 50th anniversary. The story takes place in the fictional town of Maycomb, Ala., during the 1930s and is told from the perspective of young Scout Finch. She lives with her older brother, Jem, and their widowed father, Atticus—a lawyer who defends a black man charged with raping a young white woman.
In an approximately 50-minute discussion, Emily Bazelon, Meghan O'Rourke, and Troy Patterson discuss the novel's aesthetic merits and to what extent Harper Lee pulls off its overt didacticism. (Patterson notes that at times he feels "bludgeoned.") They also discuss Malcolm Gladwell's New Yorker article from last summer, which argues that Atticus is a typical Jim Crow liberal, and hence not so ahead of his time as most readers like to imagine.
Slate's Audio Book Club now comes to you on the third Monday of every month. Our June pick is Reality Hunger: A Manifesto by David Shields. Look for our discussion on iTunes or on the Slatehome page on Monday, June 21. Also, like the Audio Book Club on Facebook.
You can also listen to any of our previous club meetings through our iTunes feed or by clicking on the links below. To download the MP3 file, right-click (Windows) or hold down the Control key while you click (Mac), and then use the "save" or "download" command to save the audio file to your hard drive.
Questions? Comments? Write to us at podcasts@slate.com . (E-mailers may be quoted by name unless they request otherwise.)