The Audio Book Club on The Big Short
Our critics discuss Michael Lewis' latest.
To listen to the Slate Audio Book Club discussion of Michael Lewis' The Big Short, click the arrow on the player below.

You can also download the audio file here, or you can subscribe to the Slate Audio Book Club feed via iTunes or directly with our RSS feed.
Get your 14-day free trial of Audio Book Club sponsor Audible.com, which includes a credit for one free audiobook, here.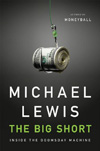 This month, the Audio Book Club discusses The Big Short, Michael Lewis' best-selling book on the financial crisis. According to Daniel Gross, what distinguishes The Big Short from so many other crisis books—there have been dozens—is that it focuses on the winners, rather than losers. That is, on a few people who made money due to the crisis because they bet against the housing market. In a 45-minute book club, Gross, Troy Patterson, and Stephen Metcalf analyze Lewis' style and career and wonder what The Big Short reveals about the future of democratic capitalism.
Slate's Audio Book Club now comes to you on the third Monday of every month. We don't yet have a book picked out for April, but there's a good chance we'll discuss Harper Lee's To Kill A Mockingbird, on the occasion of its 50th anniversary. Look for our discussion on iTunes or on the Slatehome page on Monday, May 17. Also, become a fan of the Audio Book Club on Facebook.
You can also listen to any of our previous club meetings through our iTunes feed or by clicking on the links below. To download the MP3 file, right-click (Windows) or hold down the Control key while you click (Mac), and then use the "save" or "download" command to save the audio file to your hard drive.
Questions? Comments? Write to us at podcasts@slate.com . (E-mailers may be quoted by name unless they request otherwise.)