The Audio Book Club onMary Karr
Our critics discuss Lit.
Posted Monday, Jan. 18, 2010, at 6:49 AM
To listen to the Slate Audio Book Club discussion of Mary Karr's Lit, click the arrow on the player below.
Get your 14-day free trial of Audio Book Club sponsor Audible.com, which includes a credit for one free audiobook, here.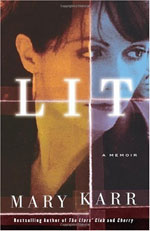 This month, the Audio Book Club discusses Mary Karr's Lit, her third memoir following The Liars' Club and Cherry. An account of her descent into alcoholism and her subsequent emergence from that state, Lit is a "redemption narrative."
Slate's Audio Book Club now comes to you on the third Monday of every month. Our selection for February is Don DeLillo's White Noise. Look for our discussion on iTunes or on the Slatehome page on Monday, Feb. 15. Also, become a fan of the Audio Book Club on Facebook.
You can also listen to any of our previous club meetings through our iTunes feed or by clicking on the links below. To download the MP3 file, right-click (Windows) or hold down the Control key while you click (Mac), and then use the "save" or "download" command to save the audio file to your hard drive.
Questions? Comments? Write to us at podcasts@slate.com. (E-mailers may be quoted by name unless they request otherwise.)
MYSLATE
Meghan O'Rourke is Slate's culture critic and an advisory editor. She was previously an editor at The New Yorker. The Long Goodbye, a memoir about her mother's death, is now out in paperback.

Troy Patterson is Slate's television critic.
Katie Roiphe, professor at the Arthur L. Carter Journalism Institute at New York University, is the author most recently of Uncommon Arrangements: Seven Marriages, and the forthcoming In Praise of Messy Lives.