The Audio Book Club on Rabbit, Run
Our critics discuss John Updike's first great novel.
Posted Thursday, Feb. 19, 2009, at 7:02 AM
To listen to the Slate Audio Book Club discussion of John Updike's Rabbit, Run, click the arrow on the player below.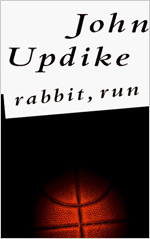 This month, the Audio Book Club looks at John Updike's Rabbit, Run. For Troy Patterson—who discusses the book with Meghan O'Rourke and Katie Roiphe—the first 40 or so pages of Rabbit, Run"are as good as anything that's ever been written in this country." The novel tackles marriage, life in the 1950s, and a particularly American kind of charm. The 50-minute conversation explores these and other themes.
In our next Audio Book Club, we really will get to David Foster Wallace's massive novel Infinite Jest. Watch for—and listen to—our discussion of Infinite Jest in March.
You can also listen to any of our previous club meetings through our iTunes feed or by clicking on the links below *:

The Great Gatsby, by F. Scott Fitzgerald
The Night of the Gun, by David Carr
American Wife, by Curtis Sittenfeld
Brideshead Revisited, by Evelyn Waugh
Netherland, by Joseph O'Neill
Anna Karenina, by Leo Tolstoy
Beautiful Children, by Charles Bock
All the King's Men, by Robert Penn Warren
Eat, Pray, Love, by Elizabeth Gilbert
Tree of Smoke, by Denis Johnson
The Audacity of Hope, by Barack Obama
The Road, by Cormac McCarthy
The House of Mirth, by Edith Wharton
Independence Day, by Richard Ford
The Emperor's Children, by Claire Messud
The Omnivore's Dilemma, by Michael Pollan
Beloved, by Toni Morrison
Everyman, by Philip Roth
Saturday, by Ian McEwan
The Year of Magical Thinking, by Joan Didion
Questions? Comments? Write to us at podcasts@slate.com. (E-mailers may be quoted by name unless they request otherwise.)
*  To download the MP3 file,right-click (Windows) or hold down the Control key while you click (Mac), and then use the "save" or "download" command to save the audio file to your hard drive.
MYSLATE
Meghan O'Rourke is Slate's culture critic and an advisory editor. She was previously an editor at The New Yorker. The Long Goodbye, a memoir about her mother's death, is now out in paperback.

Troy Patterson is Slate's television critic.
Katie Roiphe, professor at the Arthur L. Carter Journalism Institute at New York University, is the author most recently of Uncommon Arrangements: Seven Marriages, and the forthcoming In Praise of Messy Lives.