The Audio Book Club on The Great Gatsby
Our critics discuss F. Scott Fitzgerald's American classic.
To listen to the Slate Audio Book Club discussion of F. Scott Fitzgerald's The Great Gatsby, click the arrow on the player below.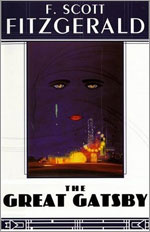 This month, the Audio Book Club revisits F. Scott Fitzgerald's The Great Gatsby. Our critics try to discover what it is about this book—so much about insubstantiality and itself quite insubstantial—that gives it such a permanent and undisputed place in the American canon. How does it work so well when the plot is ridiculous, gimmicky, and almost incidental? The 45-minute conversation explores these and other questions.
If you'd like to get an early start on the next book-club selection, we've chosen David Foster Wallace's massive novel Infinite Jest. Watch for—and listen to—our Audio Book Club about Infinite Jest in December.
You can also listen to any of our previous club meetings through our iTunes feed or by clicking on the links below *:

The Night of the Gun, by David Carr
American Wife, by Curtis Sittenfeld
Brideshead Revisited, by Evelyn Waugh
Netherland, by Joseph O'Neill
Anna Karenina, by Leo Tolstoy
Beautiful Children, by Charles Bock
All the King's Men, by Robert Penn Warren
Eat, Pray, Love, by Elizabeth Gilbert
Tree of Smoke, by Denis Johnson
The Audacity of Hope, by Barack Obama
The Road, by Cormac McCarthy
The House of Mirth, by Edith Wharton
Independence Day, by Richard Ford
The Emperor's Children, by Claire Messud
The Omnivore's Dilemma, by Michael Pollan
Beloved, by Toni Morrison
Everyman, by Philip Roth
Saturday, by Ian McEwan
The Year of Magical Thinking, by Joan Didion
Questions? Comments? Write to us at podcasts@slate.com. (E-mailers may be quoted by name unless they request otherwise.)
*  To download the MP3 file,right-click (Windows) or hold down the Control key while you click (Mac), and then use the "save" or "download" command to save the audio file to your hard drive.