The Audio Book Club on Brideshead Revisited
Our critics discuss Evelyn Waugh's most popular novel.
Posted Wednesday, Aug. 6, 2008, at 10:08 AM
To listen to the Slate Audio Book Club discussion of Evelyn Waugh's Brideshead Revisited, click the arrow on the player below.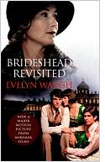 This month, Meghan O'Rourke, Troy Patterson, and Katie Roiphe discuss Brideshead Revisited, by Evelyn Waugh. Brideshead is Waugh's most popular—and most filmed—novel, but is it "popular for the wrong reasons," as Patterson suggests? As Martin Amis said, it's a "problem comedy"; it's also a war novel; a meditation on memory, loss, and love; a book about a house; and it's very much a Catholic novel—Waugh himself described it as being "a story about the effects of divine grace on a series of interlocking characters." The discussion—on these and many other topics—lasts around 55 minutes.
For the next book-club selection, we've chosen Curtis Sittenfeld's new novel, American Wife. The book is about a former school librarian who is married to the president of the United States, and we think it's a perfect choice for election season.
You can also listen to any of our previous club meetings by clicking on the links below *:
Questions? Comments? Write to us at podcasts@slate.com. (E-mailers may be quoted by name unless they request otherwise.)
*  To download the MP3 file,right-click (Windows) or hold down the Control key while you click (Mac), and then use the "save" or "download" command to save the audio file to your hard drive.
MYSLATE
Meghan O'Rourke is Slate's culture critic and an advisory editor. She was previously an editor at The New Yorker. The Long Goodbye, a memoir about her mother's death, is now out in paperback.

Troy Patterson is Slate's television critic.
Katie Roiphe, professor at the Arthur L. Carter Journalism Institute at New York University, is the author most recently of Uncommon Arrangements: Seven Marriages, and the forthcoming In Praise of Messy Lives.