The Audio Book Club on Eat, Pray, Love
Our critics discuss Elizabeth Gilbert's blockbuster memoir.
To listen to the Slate Audio Book Club discussion of Elizabeth Gilbert's Eat, Pray, Love, click the arrow on the player below.
You can also download the audio file here, or click here to subscribe to the Slate Audio Book Club feed in iTunes.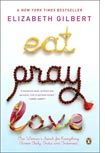 "Dilettante" columnist Stephen Metcalf, NYU professor Roiphe, and Slate culture editor Julia Turner argued about the book's artistic merits, its structure, and whether it's possible to even imagine a man enjoying the book. Is Gilbert merely a "high-level hack"? Are negative responses to the book evidence of the tendency to dismiss women who write memoirs as "self-indulgent"? The conversation runs about 55 minutes.
If you'd like to get an early start on the next book-club selection, we've chosen All the King's Men, by Robert Penn Warren, one of the greatest political novels in American literature. We'll post the discussion in early March, so you have some time to read—or reread—the book.
You can also listen to any of our previous club meetings by clicking on the links below *:
Questions? Comments? Write to us at podcasts@slate.com. (E-mailers may be quoted by name unless they request otherwise.)
* To download the MP3 file,right-click (Windows) or hold down the Control key while you click (Mac), and then use the "save" or "download" command to save the audio file to your hard drive.