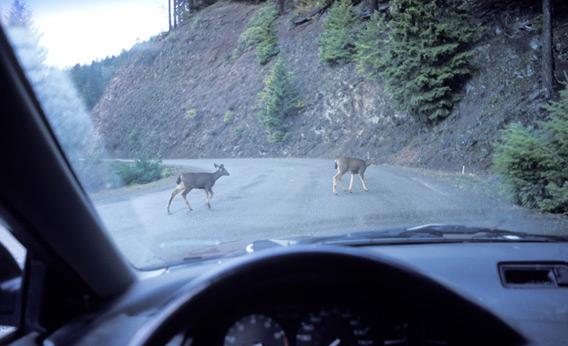 Click the arrow on the audio player to hear Jack Marshall read this poem. You can also download the recording or subscribe to Slate's Poetry Podcast on iTunes.

He was talking about the hidden. He had
come from chemo. We sat in the car.
Facing straight ahead,
he looked too tired to turn
and face me.
His friend had driven him
and stopped to chat. "His mind is
pure, his house is a mess;
he's a pain in the ass,"
she said. "I take him every week." Rapt,
still facing front in the passenger seat,
a mummy just out of the crypt,
with all the time behind him staring at all
that lay ahead. To see
such zeal
was not to envy it.
It wasn't patience, more like practiced
foreboding, which might
bring forth foreseeing the unseeable, which could
not be seen
before it is, he said.
"The beautiful does not exist
somewhere before it is
bidden and made manifest;
it is not waiting to be seen.
It comes from the force of attraction and life-
giving power" ... Then,
I swear, out of nowhere, two deer
come clattering down the street, two mighty, meaty
four-hoofed tap-dancers
on tiptoe,
skidding sparks, at the intersection
stop, and look off: a deer and a doe in El Cerrito,
peering toward San Pablo Avenue, tails
twitching panic in their pause, turn,
and head toward the hills.