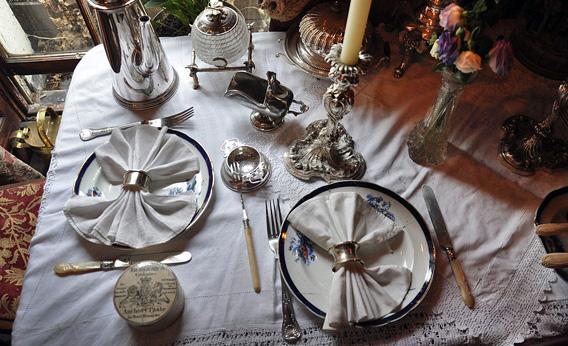 Click the arrow on the audio player to hear Alfred Corn read this poem. You can also download the recording or subscribe to Slate's Poetry Podcast on iTunes.

Characters treading not quite level pine
Boards number, first, Carafe, who's sweating beads
Of coolant on her Delft-blue leaves and birds.
Then enter Sirloin, crusty, rare, supine,
Giving his aromatic agony
Away in pink tears drained into the dark
Platter's symmetrically branching tree.
Sharp Knife starts bantering with Mrs. Fork—
Quips and metallic comments re Parsnip,
The fossil he's been trying to butter up.
Pepper's gambits are pungent, but poor Salt
Gets maudlin as the meal slows to a halt.
And now the attentive, worn-out Napkins, who move
Toward lips whose service, too, resembles love.