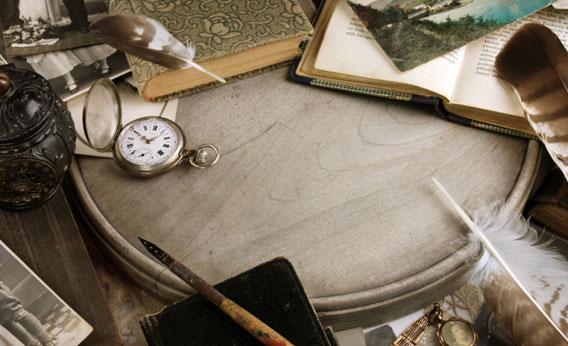 Click the arrow on the audio player to hear Don Bogen read this poem. You can also download the recording or subscribe to Slate's Poetry Podcast on iTunes.
Old papers, old stationery, I know, in the heavy drawers
With filigreed brass pulls that dropped and clanged when you opened them
Everything stuffed in there: letters, bills, odd wallet-sized photos
Dried-out pens nestled along the edges of the ruffled piles
Shifting textures of paper, stiff plastic, and cardboard in different weights
Address books, old calendars, an envelope full of checks, announcements from businesses
All of these clamoring in their mute voices
Print under logos, typing that showed where a finger slipped or a key caught
The loopy handwriting of my mother before she got sick
Filling the space between the light-blue lines on the folded pages
My mother, or my grandmother—which paper, which desk, where
The bright dining room or the dim one, neither much used
I can choose at will, I can pull at the tight drawers and work them open
The handles clattering, the crammed-in papers expanding a bit, as if able to breathe
I am comfortable now, my ballpoint fluent, I am reading what I see
I look up from each desk and find either small, gold-framed pictures, a ballerina under glass
And a stack of paid bills wrapped with a rubber band
Or a light brown wall where memory has neglected to set anything
Through four generations it has gone on fading, it has never been repainted
Because it's near the archway to the living room, light barely reaches it
The other desk splits light, dispensing it among the photos and geegaws
The mountains are behind it, they loom over the shoulder of someone writing there
Who is a ghost, lost, absorbed in a task and thus fully alive
Paying no attention to her desk or the others
TODAY IN SLATE
Foreigners
The World's Politest Protesters
The Occupy Central demonstrators are courteous. That's actually what makes them so dangerous.