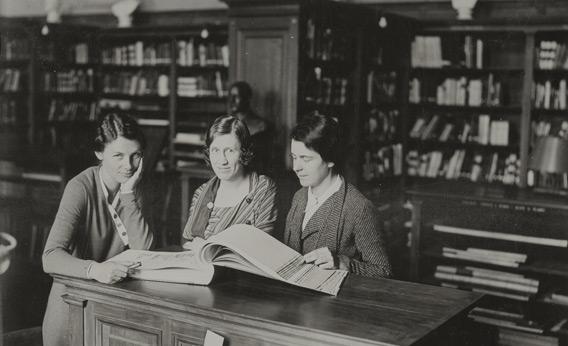 Click the arrow on the audio player to hear Karl Kirchwey read this poem. You can also download the recording or subscribe to Slate's Poetry Podcast on iTunes.
In 1933, midsummer,
vexed by the ablative absolute,
she looks toward the camera,
behind her the dark oak wainscot
of the library reading room,
two old maids standing at her side.
She has learned each colleague's name
as protocol and place demanded,
Faulsporn, Ogle, Solliman,
Van Kulp, Keck, Queef: the fellowship,
gifted and dull. To her concern,
her recent thought has seemed to slip.
Her husband is the Annual Professor,
bespectacled, already bald,
in a light suit, not far from her.
With one hand, she could touch and hold—
And certain Latin lines run riot
(that girl with a firebrand between her thighs),
whenever she would concentrate
(or the one who couples with an ass),
while figs are oozing in the garden:
their burst sockets and rosy flesh,
mosquitoes at her ankles, noon …
She muses, chin in hand. The wish
leads like the buttons on her sweater
in a wayward diagonal
beyond the frame of this picture.
Her smile is mocking, dreamy, carnal.