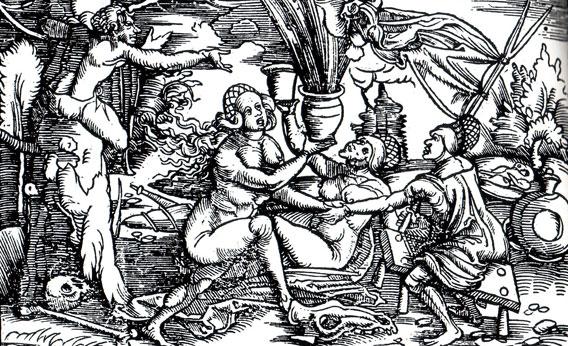 Click the arrow on the audio player to hear Lauren Watel read this poem. You can also download the recording or subscribe to Slate's Poetry Podcast on iTunes.
There's a witch in my hair
who hides my spectacles
and one in my neck
who hectors me
The witch in my left arm socket
signals changes in my direction
The witch in my ankle wears armor
and wields a sharpened pike
for daily reenactments
of the Battle of Leuctra
on the side of the Spartans
A collection agency
leaves ominous messages
alluding to bills past due
for the witch in my belly
The witch in my locked skullbox
gazes through mirrored casements
at wavering winds
warbler song
the breath of ghosts
grief's gritted teeth
An endless sentence
of peine forte et dure
depresses the witch
in my chest
The witch in my right temple
knitted me a tiny carcinoma
out of crushed scarlet velvet
At the corner of Boundary and Main
the witch in my legs lags
The witch in my ears can hardly hear
the complaint of a leak
before fluids escape
What began as an earthworm
wallowing in reddish sludge
the witch in my palms
shaped into a conscience
There is no doubt that certain
witches can do marvelous things
with regard to male organs
according to Heinrich Kramer
15th-century inquisitor and author
of the Malleus Maleficarum
which explains why the witch
in my snatch is so musical
TODAY IN SLATE
Politics
Smash and Grab
Will competitive Senate contests in Kansas and South Dakota lead to more late-breaking races in future elections?