Street Poet
How the often-overlooked Lola Ridge became one of America's first great urban Modernists.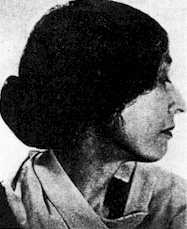 The poet Lola Ridge (1873-1941) was an early Modernist, radical in her politics, and an ardent feminist. In the clumsy ways of literary fashion, Ridge was prominent and anthologized, then more or less forgotten, and may be due for the mixed blessing of academic attention with its endless migrations.
She is a terrific poet, in both senses of that word. The title sequence of her first book, The Ghetto and Other Poems, takes an energized, head-on look at the old Lower East Side. Ridge sees the Yiddish-speaking tenements and pushcarts directly, from that time (1918) and from inside that place. Ridge's way of making a poem about the ghetto scrubs away any accumulated nostalgia or sentimentality: "Hester street,/ Like a forlorn woman over-born/ By many babies at her teats,/ Turns on her trampled bed to meet the day."
From our perspective of a century later, it's necessary to see past elements of period style in Ridge's idiom and to appreciate the magnitude and freshness of her enterprise: to make poetry out of the actual city. What might seem melodramatic or heavy is hard-won, sensitive, and eloquent about that project. Here is a passage where the poet demonstrates her purpose with an example:
They are covering up the pushcarts ...
Now all have gone save an old man with mirrors—
Little oval mirrors like tiny pools.
He shuffles up a darkened street
And the moon burnishes his mirrors till they shine like phosphorus ...
The moon like a skull,
Staring out of eyeless sockets at the old men trundling home the pushcarts.
The passage reminds me of an image of someone holding a camera, an art showing its own process: The movement from pushcarts to moon and back to pushcarts traces an essential gesture. The passage also illustrates what I mean by "period style": the use of "save" in a slightly old-fashioned literary sense, the emphatic or heavy "eyeless sockets"—superficial matters, for me, to be noted with a respectful awareness that our own period, too, has some manners that may not age perfectly.
Ridge is especially good at dealing with the perspective of children. There are times when her acute, pained but objective sense of a deprived or traumatized child can create a voice like Blake's. Like Blake, she can evoke innocence and experience in a way that blurs the ambiguous boundary between them. For this month's "Classic Poem" I'll present a section from the title sequence of her second book, Sun-Up. In these lines excerpted from the longer poem "Betty," Ridge creates a striking, original balance of innocence and cruelty, clear outline and mysterious inner life.
Also, one of Ridge's shorter, lyric poems, "Manhattan." If her way of composing in the voice of children merits comparison with William Blake, some of Ridge's writing about the city looks forward a generation to Hart Crane and his great "Proem: To Brooklyn Bridge." Crane was 18 years old when Ridge published The Ghetto and Other Poems. In her poem "Manhattan," the phrases "vesture of gold—/ Span of innumerable arcs,/  Flaring and multiplying" are a kind of premonitory echo. Both poets represent an essential—though possibly forgotten or unfashionable—strand of Modernism: to adapt the most ecstatic, high language of the past, especially of the Elizabethans, to the squalid and the sublime realities of the actual, 20th-century American city.
Selections From "Betty"
You can see the sandhills from our new room.
Butterflies
live in the sandhills
and lizards
and centipedes.
If you keep very still
lizards will think you a stone
and run over your lap.
Butterflies' liveries
are scarlet and black.
They drive chariots in air.
People in the chariots
are pale as dew—
you can see right through them—
but the chariots
are made of gold of the sun.
They go up to heaven
and never catch fire.
There are green centipedes
and brown centipedes
and black centipedes,
because green and brown and black
are the colors in hell's flag.
Centipedes
have hundreds of feet
because it is so far from hell
to come up for air.
Centipedes
do not hurry.
They are waiting for the last day
when they will creep over the false prophets
who will have their hands tied.
: :
Night calls to the sandhills
and gathers them under her.
she pushes away cities
because their sharp lights
hurt her soft breast.
Even candles make a sore place
when they stick in the night.
There are things in the sandhills
that no one knows about ...
they come out at dark when the young snakes play
and tell each other secrets
in the deaf logs.
Sometimes ... before rain ...
when the stars have gone inside ...
the night comes close to your window
and sniffs at the light. ...
But you must not run away—
you must keep your face to the night
and walk backward.
….….…................….….….—Lola Ridge
Click the arrow on the audio player below to hear Robert Pinsky read selections from Lola Ridge's "Betty." You can also download the recording or subscribe to Slate's Poetry Podcast on iTunes.
.
"Manhattan"
Out of the night you burn, Manhattan,
In a vesture of gold—
Span of innumerable arcs,
Flaring and multiplying—
Gold at the uttermost circles fading
Into the tenderest hint of jade,
Or fusing in tremulous twilight blues,
Robing the far-flung offices,
Scintillant-storied, forking flame,
Or soaring to luminous amethyst
Over the steeples aureoled—
Diaphanous gold,
Veiling the Woolworth, argently
Rising slender and stark
Mellifluous-shrill as a vender's cry,
And towers squatting graven and cold
On the velvet bales of the dark,
And the Singer's appraising
Indolent idol's eye,
And night like a purple cloth unrolled—
Nebulous gold
Throwing an ephemeral glory about life's vanishing points,
Wherein you burn ...
You of unknown voltage
Whirling on your axis ...
Scrawling vermillion signatures
Over the night's velvet hoarding ...
Insolent, towering spherical
To apices ever shifting.
….….…................….….….—Lola Ridge
Click the arrow on the audio player below to hear Robert Pinsky read Lola Ridge's "Manhattan." You can also download the recording or subscribe to Slate's Poetry Podcast on iTunes.