Valentine's Voices
Two love poems, one pure, the other deeply impure.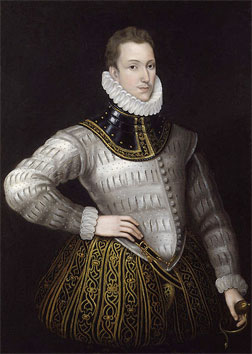 Here, for Valentine's Day, are poems that represent extreme, opposite notions of love. One-word labels for them might be innocence and decadence. Both qualities can generate great intensity, as demonstrated by Philip Sidney (1554-86) and Ernest Dowson (1867-1900).
Sidney, the supremely eminent and scholarly nobleman, imagines pastoral innocence: love entire and sweet, expressed without guile or doubt by a young shepherd girl. She speaks with the graceful simplicity of a song.
Dowson speaks differently from that, and about a different kind of love. In his poem, a man explains that even while sleeping with a prostitute the night before, he was thinking about the "old passion" he shared with the woman he addresses as Cynara. In something like a reversal of the learned Sidney imagining the words of a young innocent, Dowson creates a learned, urbane character with his Latin title, using a quotation from Horace ("I am not what I was in the reign of the good Cynara") to frame his account of a night of whoring and drinking.
Decadence and innocence: Thinking about someone other than the one you were with all night, then telling that someone else about the night's lovemaking in detail; or, in contrast, celebrating a union so perfect that the identities of lovers merge, so that "his" and "mine" become interchangeable synonyms. For most of us, the experience of love is somewhere between those extremes. In their radically different ways, both poems work by passionately, flamboyantly going far—almost absurdly far. They invite the phrase "over the top," cultivating excess with a forceful concision that makes them memorable. (Margaret Mitchell took her title Gone With the Wind from Dowson's poem.)
There's a great range of love between these two—the lurid heartsickness of "Surely the kisses of her bought red mouth were sweet; But I was desolate and sick of an old passion" and the stylized grace of "He loves my heart, for once it was his own."
I'm not sure what to make of the fact that both poets died in their early 30s—Sidney of a wound received at the Battle of Zutphen, Dowson of disease complicated by alcoholism. The coincidence is a reminder that by the age of 32 or so, most people have experienced more than one kind and degree of love, with its endless variations, joys, falsehoods, truths, and predicaments.
"My True Love Hath My Heart and I Have His"
My true love hath my heart and I have his,
……By just exchange one for another given;
I hold his dear, and mine he cannot miss,
……There never was a better bargain driven.
……….My true love has my heart and I have his.
His heart in me keeps him and me in one,
……My heart in him his thoughts and senses guides;
He loves my heart, for once it was his own,
……I cherish his, because in me it bides.
……….My true love hath my heart and I have his.