Something From Nothing
Poets like John Wilmot cut their world down to size with wit—then built it up again in art.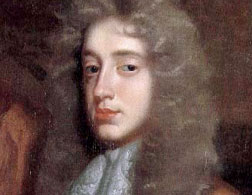 The quality of wit, like the Hindu god Shiva, both creates and destroys—sometimes, both at once: The flash of understanding negates a trite or complacent way of thinking, and that stroke of obliteration at the same time creates a new form of insight and a laugh of recognition.
Also like Shiva, wit dances. Leaping gracefully, balancing speed and poise, it can re-embody and refresh old material. Negation itself, for example—verbal play with words like nothing and nobody: In one of the oldest jokes in literature, when the menacing Polyphemus asks Odysseus for his name, Odysseus tricks the monster by giving his name as the Greek equivalent of Nobody.
Another, immensely moving version of that Homeric joke (it may have been old even when Homer used it) is central to the best-known song of the great American comic Bert Williams (1874-1922). You can hear Williams' funny, heart-rending, subtle rendition of the song (music by Williams, lyrics by Alex Rogers) at the University of California's Cylinder Preservation and Digitization site.
The lyricist Rogers, I suspect, was aided by Williams' improvisations as well as his virtuoso delivery. The song's language is sharp and plain. The plainness, an almost throw-away surface, allows Williams to weave the refrain-word "Nobody" into an intricate fabric of jaunty pathos, savage lament, sly endurance—all in three syllables, with the dialect bent and stretched and released:
When life seems full of clouds and rain,
And I am full of nothing and pain,
Who soothes my thumpin', bumpin' brain?
Nobody.

When winter comes with snow and sleet,
And me with hunger, and cold feet—
Who says, "Here's twenty-five cents
Go ahead and get yourself somethin' to eat"?
Nobody.

I ain't never done nothin' to Nobody.
I ain't never got nothin' from Nobody, no time.
And, until I get somethin' from somebody sometime,
I'll never do nothin' for Nobody, no time.
In his poem "Upon Nothing," John Wilmot (1647-80), also known as the earl of Rochester, deploys wit as a flashing blade of skepticism, slashing away not only at a variety of human behaviors and beliefs, not only at false authorities and hollow reverences, not only at language, but at knowledge—at thought itself:
"Upon Nothing"
...........................1
Nothing, thou elder brother ev'n to Shade
Thou hadst a being ere the world was made,
And, well fixed, art alone of ending not afraid.
...........................2
Ere Time and Place were, Time and Place were not,
When primitive Nothing Something straight begot,
Then all proceeded from the great united What.
...........................3
Something, the general attribute of all,
Severed from thee, its sole original,
Into thy boundless self must undistinguished fall.
...........................4
Yet Something did thy mighty power command,
And from thy fruitful emptiness's hand
Snatched men, beasts, birds, fire, water, air, and land.
...........................5
Matter, the wicked'st offspring of thy race,
By Form assisted, flew from thy embrace
And rebel Light obscured thy reverend dusky face.
...........................6
With Form and Matter, Time and Place did join,
Body, thy foe, with these did leagues combine
To spoil thy peaceful realm and ruin all thy line.
...........................7
But turncoat Time assists the foe in vain,
And bribed by thee destroys their short-lived reign,
And to thy hungry womb drives back thy slaves again.
...........................8
Though mysteries are barred from laic eyes,
And the divine alone with warrant pries
Into thy bosom, where thy truth in private lies;
...........................9
Yet this of thee the wise may truly say:
Thou from the virtuous nothing doest delay,
And to be part of thee the wicked wisely pray.
...........................10
Great Negative, how vainly would the wise
Enquire, define, distinguish, teach, devise,
Didst thou not stand to point their blind philosophies.
...........................11
Is or Is Not, the two great ends of Fate,
And true or false, the subject of debate,
That perfect or destroy the vast designs of state;
...........................12
When they have racked the politician's breast,
Within thy bosom most securely rest,
And when reduced to thee are least unsafe, and best.
...........................13
But, Nothing, why does Something still permit
That sacred monarchs should at council sit
With persons highly thought, at best, for nothing fit;
...........................14
Whilst weighty something modestly abstains
From princes' coffers, and from Statesmen's brains,
And nothing there, like stately Nothing reigns?
...........................15
Nothing, who dwell'st with fools in grave disguise,
For whom they reverend shapes and forms devise,
Lawn-sleeves, and furs, and gowns, when they like thee look wise.
...........................16
French truth, Dutch prowess, British policy,
Hibernian learning, Scotch civility,
Spaniards' dispatch, Danes' wit, are mainly seen in thee.
...........................17
The great man's gratitude to his best friend,
Kings' promises, whores' vows, towards thee they bend,
Flow swiftly into thee, and in thee ever end.
Click the arrow on the audio player below to hear Robert Pinsky read "Upon Nothing." You can also download the recording or subscribe to Slate's Poetry Podcast on iTunes.
The inventive triple rhymes give this poem the authority of expertise. The multiple targets, with their wildly varying scale (whores and philosophies, politicians and Creation), give it a manic energy: the sweeping, parched grandeur of its Great Negative. Underlying this restless and skeptical rant is Wilmot's profound pathos—just as, conversely, underlying the pathos of Bert Williams' performance there is, maybe, a philosophical frame of mind.