The Time Is Out of Joint
Behind the scenes on D'Angelo's Voodoo.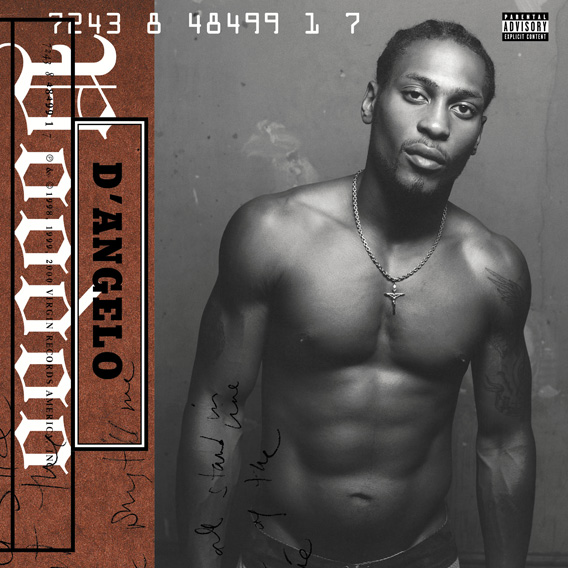 Holdups and false starts kept Voodoo from a '90s release. Perfectionist D'Angelo had become distracted by weed and weightlifting, and debilitated by sophomore pressure to follow up his groundbreaking 1995 debut Brown Sugar. In the interim he'd fathered two children, switched managers, jumped to a new record label, and made cameos on scattershot soundtracks. Two promo singles dropped: murky, sample-heavy "Devil's Pie" in October 1998 and Redman/Method Man-assisted toe-tapper "Left and Right" a year later. But promises of a full-length studio album evaporated into the ether. Voodoo might have seen its commercial release in November 1999, but a planned duet with Lauryn Hill on a lurching cover of Roberta Flack's 1975 "Feel Like Making Love" remained unfinished and the album was pushed back until just after the New Year. (The rendition would ultimately wind up on Voodoo as a solo D'Angelo record without Hill.)

Voodoo was a project obsessed with 1960s, '70s, and '80s funk and soul—a nostalgic nod to the ideas and inventions of black music trailblazers like Jimi Hendrix, Sly Stone, George Clinton, Kool and the Gang, Al Green, and Prince, powered by avant-garde hip-hop-influenced rhythms. As such, Voodoo is decidedly postmodern, bopping in and out of and between eras without necessarily belonging to any singular era in particular. And perhaps the delayed, dislocated timing of Voodoo's commercial release suggests a truism about D'Angelo himself: Wherever he seems to go, the time is, as Hamlet once said, out of joint.
Brown Sugar relied on programming, with many of the songs pre-written and arranged before D'Angelo recorded them. Voodoo, on the other hand, was a more organic, improvisatory, and experimental affair. Much of the songwriting occurred in the studio. The innovation kicked off, it seems, with Jimi Hendrix. In a recent interview, Voodoo's mix engineer Russ Elevado recounted to me how he helped turn D'Angelo onto Hendrix in the mid '90s. "All D'Angelo had heard of Jimi at that time were songs like Purple Haze and albums like Are You Experienced," he said. "I had been hired to mix a few songs on Brown Sugar; and, around '94 or '95, I kept trying to play Jimi for D'Angelo but at the time he wasn't really open to it. Finally when I went down to Virginia to talk about the concept for what was to become Voodoo, D'Angelo and I went out for breakfast, and in the car I popped in Electric Ladyland. He looked at me as if to say: 'Who is this?'"
No surprise, then, that they chose downtown New York's Electric Lady, the famed studio Hendrix built before he died, as the venue for recording the album. "There we were," Elevado recalls, "blowing the dust off the original Rhodes that Stevie supposedly recorded with in the early 1970s, and blowing dust off some of the microphones. You have to remember that at that time in the mid 1990s, hardly anybody in soul music was doing any recordings with vintage equipment like that."
The concept behind Voodoo was simple. Put together a kick-ass ensemble of R&B musicians bent on grooving together. Record them live, in real time, jamming face-to-face in an effort to capture their conviviality and chemistry. This was the way funk records used to be made in the pre-digital era when people who knew what they were doing were actually making them. For Voodoo's core rhythm trio, D'Angelo recruited his friend and colleague, the Roots' Afroed visionary Ahmir "Questlove" Thompson to play drums, and Welsh journeyman Pino Palladino to hold down the bass. Additional collaborators included guitar mavens Charlie Hunter, Spanky Alford and Mike Campbell, neo-soul stalwart James Poyser on keys, and jazz prodigy Roy Hargrove on horns.

"I was a kind of a walking YouTube before YouTube existed," said Questlove in our recent interview. "People felt comfortable to share archives with me and trusted that I wouldn't go out and exploit them. So I would get what I would call 'treats:' you know, an old promoter that might have worked for Bill Graham back in the day … would hand me a manila envelope and it would be, say, a rare copy of Sly and the Family Stone's four shows at the Fillmore. I'd take it back to Electric Lady Studios and make copies of it and we'd just study it and then a week later we'd start working on it. That was the process." The band spent all of 1996 and most of 1997, he says, "just watching treats and jamming. I have to say we really hit our stride in late 1997 when I went to Japan and unearthed about 4,000 video episodes of Soul Train. Then we really got down to business and started recording the album."
"When my musician friends first heard the album, they were confused," notes Pino Palladino. "They thought: It sounds kinda weird, the timing's kinda weird on it. D'Angelo explained the concept of how he wanted the bass to sound to me before we started playing. I attempted to put the bassline where I thought he wanted it. I would never have thought of putting it so far back behind the beat. But it becomes a different feeling: It stretches in and out of different accents."