Published by

Remarkable Genius
Bespoke Designer DeCarlos Morse Brings Traditional Craftsmanship Into the Future
Nestled between a neighborhood watering hole and a bikram yoga studio in downtown Jersey City, New Jersey, considered by many to be New York's "sixth borough," DeCarlos Bespoke stands as a safe haven for traditional craftsmanship. The bespoke menswear shop's charming storefront windows, which display a meticulously styled mixture of colorful suits and curious antiques, set the tone for the truly immersive experience that's just beyond the threshold.
"I had a vision," says DeCarlos Morse, the impeccably dressed designer and custom tailor responsible for the seven-year-old store's aesthetic—and everything it produces. "I drew the shop on a square-inch sheet of paper. I kept that drawing for years before the store was open. … By the time I was done putting this place together, it was almost identical to that image."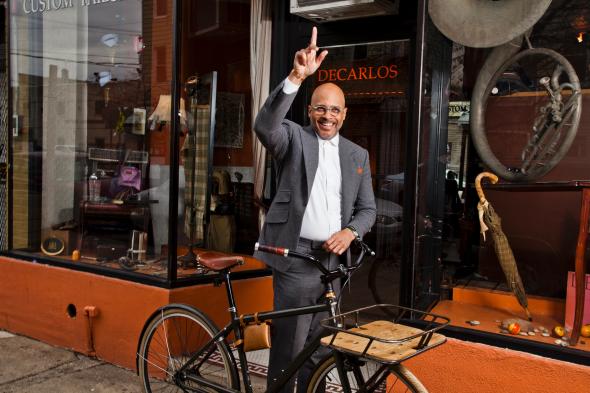 The vibe inside DeCarlos Bespoke is equal parts gentleman's parlor and old-timey speakeasy. Upon walking in, you'll find an oxblood leather chair on your left and, beside it, a set of vintage golf clubs. A properly stocked brass-and-glass bar cart is positioned within arm's reach. A cabinet humidor stands along the nearby wall, holding a treasure trove of cigars within. The shelves are stacked with a selection of his favorite dry English cloths, ranging from Prince of Wales Glen plaid to Harris tweed, birdseye to herringbone and houndstooth, and vintage gems from the '60s and '70s. DeCarlos' attention to detail is striking; a glance in any direction leads to a new discovery, like a carefully curated selection of books about his personal style icons, the antique leather suitcases, a cherished wooden backgammon set, and playing cards—just for fun.
"I wanted people to feel like they were stepping into someone's living room," says DeCarlos. "My love of antiques [preceded] my interest in the art of tailoring," he says of the abundance of vintage paraphernalia. "I noticed the things that were well made. … Over the years, I collected all the things in here."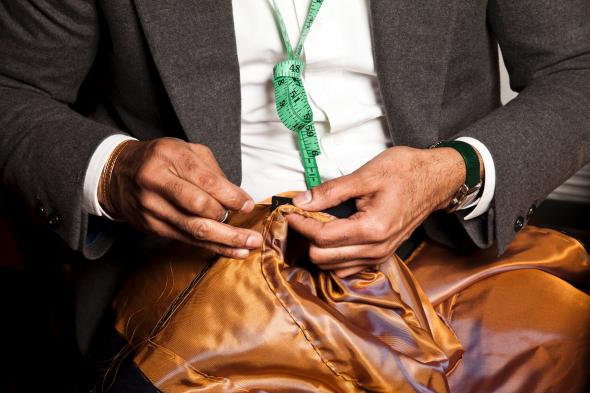 DeCarlos' appreciation for top-notch craftsmanship can perhaps be attributed to the ingeniousness and do-it-yourself spirit of his parents. Growing up in Charlottesville, Virginia, DeCarlos often watched his father, who worked as a computer operator, build wooden frames, sew drapes, and even rebuild car engines in his spare time. His mother—who he regards as his ultimate style icon—made a hobby out of sewing her own dresses.
Despite hailing from a crafty family, DeCarlos, who is largely self-taught, didn't attempt to officially put needle to thread until his early twenties. After moonlighting with Southern heritage brands, he decided to abandon his reliable banking job and pursue his passion for making suits from scratch.
After moving to New York City, a once-in-a-lifetime opportunity presented itself at a famed British luxury menswear brand—and DeCarlos made sure to make the most of it. Along the way, he worked side by side with bespoke legends he regards as mentors. "Those gentlemen showed me the way, and, most importantly, they gave me their time," he says. "They cared about every little detail. I came to understand that the width of a stitch really does matter."
DeCarlos, ever the Southern gentlemen, is particularly tight-lipped about the A-list clientele he works with, which includes Grammy-winning artists and professional athletes. "My clients know and like that I am discrete," he says. While he won't get into the nitty gritty, he will say this: "I've become great friends with most of my clients. I can go play golf and smoke cigars with them. It's not about the money for me—it's about the relationship. [My clients] care about how they dress, and they come to the right person, because I care that they want to look and feel good."
The camaraderie between DeCarlos and his clients, both the high-profile ones and the walk-ins, can likely be attributed to the innately intimate quality of the bespoke design process, but most especially to how collaborative he chooses to make it. "I want them to be a huge part of the design process," he says. "Sometimes it takes three trips before they fully commit [to having a bespoke suit made], and that's fine because I want them to feel comfortable with me and the final product."
Clients often gravitate to DeCarlos because of his distinct aesthetic, which involves a penchant for earth tones, which he attributes to his love of the countryside, proprietary shoulder construction, wider lapels, and design details like the oft-forgotten ticket pocket. Don't worry—there's a cell phone pocket, too. "For 12 years, it's always been in my suits," he says.
He's also credited for breathing new life into the blue suit with the 2009 launch of his Monument Avenue Blue Suit, a bold sapphire number with subtle slate gray undertones. At the time—and well ahead of the subsequent menswear trends—it was a huge deviation from the standard and often drab navy options saturating the market. "Blue suits needed a new life," Morse says of his impetus for designing his signature piece. "When I first came up with the concept, I searched for 'blue suits' online and all I found were police uniforms. I knew I needed to change things up."
While DeCarlos' motto—"Suits should fit"— is simple, his technique is anything but. He is known to take up to 60 measurements, noting every nuance of a client's specific frame. "I don't use 3D scanners," he remarks on a practice being adopted by made-to-measure suit makers who tend to outsource their manufacturing to factories. "I am the scanner." The result is a perfect fit. "A bespoke suit is like a soft hug," he says with a smile. "It's like another layer of skin. It just feels right. And you want to be in one almost every day."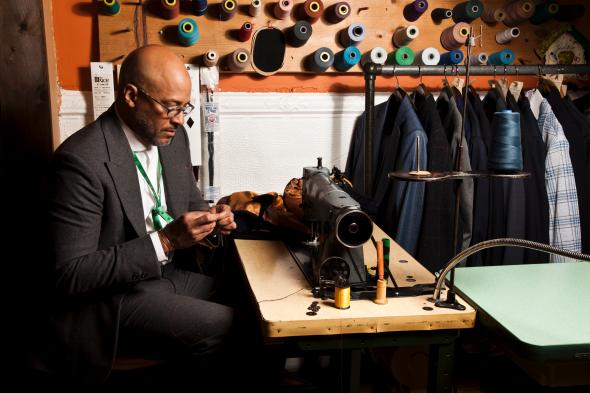 Tailors typically build their client base through word of mouth. This holds true for DeCarlos, who, while a purist in many regards, also keeps a few tech tools in his arsenal, including Yelp. DeCarlos, who has an impressive 4.5-star rating on the crowd-sourced review site, says he's benefited tremendously from the positive feedback. "A lot of people come in saying they've been thinking about getting a bespoke suit for a long time, and because of my reviews, they want to give me a shot." He also uses ShopKeep, a mobile point-of-sale system he particularly likes because of its detailed reporting features. He also relies on watching his security cameras on a mobile phone app, which gives him peace of mind when he steps out for client meetings and consultations.
Aside from the praise of satisfied customers, DeCarlos also reaches new clients via Instagram, which helps to solidify his brand image. "I don't just post pictures of suits," he says. "I want to show people the lifestyle embodied by DeCarlos Bespoke." To that end, his feed contains photos of his signature Country Vests, shots where he's brilliantly dressed and enjoying a cigar, and images of well-plated dinners (cooking is his second love) and vintage automobiles. "If someone contacts me, they already have a sense of who we are and what I do," he muses. "It's important to send out the right message."