Published by

Remarkable Genius
Akasha Richmond Paved Her Own Path From Yogi to Celebrity Chef
While food critics may not agree on everything, it's generally accepted that certain ideas—from fusion to foam to food trucks—started on the West Coast and worked their way east. Today's newest trend is no different: American diners increasingly value innovation over five-star pedigrees and fussy techniques. In other words, self-taught chefs like L.A.'s Akasha Richmond are looked to as rock stars of the restaurant world.
Richmond, however, would never consider herself on-trend in any way. Her commitment to seasonal, sustainable ingredients began decades before "farm-to-table" became a menu mandate. She didn't go to culinary school, or apprentice with industry legends. And she never intended to become the chef-owner of AKASHA and Sambar, two of L.A.'s most seminal restaurants.
Richmond grew up in Florida, where her Russian and American grandmothers taught her how to cook. Her career aspirations took her to San Diego, where she studied art, and then to Los Angeles, where she studied yoga. She planned to eventually open a teaching practice in Hawaii, but while working a summer job at L.A.'s Golden Temple, a vegetarian restaurant frequented by celebrities, she discovered her true passion. "Here I was, working 12- to 14-hour days," she says. "And I just felt like this was the most fun thing in the world to do."
She can't pinpoint the "aha" moment when she decided to become a chef. Rather, one of her regulars helped shape her path by recognizing her talent and hiring her as a private chef. She traveled the world on tour with this reclusive megastar, developing a personal friendship with him that lasted until his untimely death.
During this time, Richmond starting exploring the idea of opening her own restaurant but knew the timing wasn't quite right. In 2008, encouraged by a friend, she started visiting potential restaurant sites. "I started looking at spaces for fun," she says. But when she saw a space in Culver City's historic Hull Building, "fun" turned into making concrete plans for the future. "There was something special about the energy," she says. "It just felt right." The space became AKASHA, which means "intangible spirit," a California-New American restaurant featuring items like fig and prosciutto flatbread pizza and baby back ribs with coffee-bourbon barbecue sauce.
Today, Richmond does everything from cooking and creating menus to social media promotion while her husband and co-owner Alan Schulman runs the front of house. She also recently opened Sambar, two doors down, offering a modern twist on the Indian dishes she came to love while spending time in the Subcontinent during her twenties.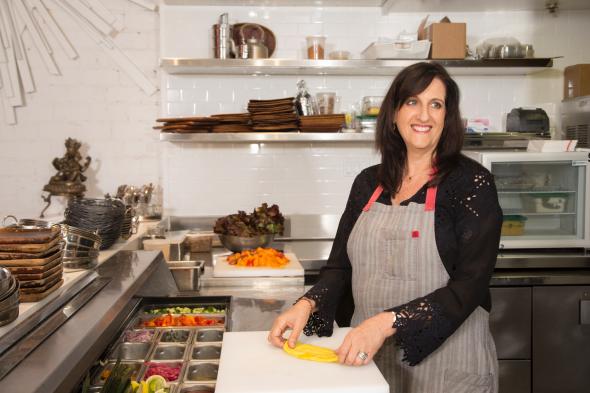 Whistling while setting out silverware and candles for the night's upcoming dinner service, Schulman pauses for a second when asked the secret of his and Richmond's success. "We stay out of each other's way!" he laughs. "No, really, it's all about respecting what you're each good at. She knows I know all about operating the front of the house, and I respect what she's good at."
Richmond has a similar point of view, acknowledging that success comes from recognizing what people are best at— and then letting them do it. "Creative people can't be put in a box," she says. "I love to let people do what they do best. ... It's all about giving people the tools to let them create." The results speak for themselves: Her chef Kirk Plummer, whom she has mentored for most of his career, was just named one of Zagat's 30 Under 30.
When it came to designing her restaurant, she used the same approach. "I'm good at recognizing what I'm not good at," Richmond says. "I trusted [my designer's] judgment because I know she's the best at this." The outcome perfectly aligned with Richmond's beliefs: "We used material left over from demolition to create the artwork," she says, referring to a wooden starburst on a white brick wall. "It's sustainable."
Always Ahead of the Curve
In Schulman's mind, what makes Richmond really special is that, as he puts it, "Cooking is just simply in her DNA. She's all about ingredients that are authentic, and is open about letting others try new things."
From the beginning, Richmond seemed to have a unique command over the serendipitous, an implicit trust in the timing of her life. Perhaps this is what has led to Richmond's being consistently ahead of the curve—in her dedication to authentic, sustainable ingredients before it was a trend; in her study of yoga before it became a fitness staple; in her raw talent that now dovetails perfectly with modern food trends. Perhaps, as her name indicates, it all comes down to that intangible spirit.