The Longform.org Guide to Woody Allen
The most interesting articles about—and by—the director. (He's a surprisingly great journalist.)
Every weekend, Longform.org shares a collection of great stories from its archive with Slate. For daily picks of new and classic nonfiction, check out Longform.org or follow @longformorg on Twitter.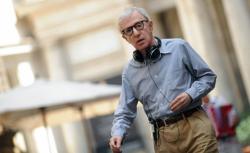 When it comes to long-form writing, few figures have played more roles over the years than Woody Allen. He's the subject of countless profiles; his catalog often gets the full think-piece treatment; he's a great interview (whether the topic is his work or his relationship with Soon-Yi); and, oh yeah, he writes long pieces, too. Here are our favorites:
Kliph Nesteroff • WFMU Blog • February 2010
A young Allen writes jokes for supper club comedians, decides he will never make it as a performer and then does, idolizes and is snubbed by Mort Sahl, and develops the comic persona which will make him a star:
"Woody Allen found himself writing for the clever comedian Herb Shriner. Shriner had a folksy radio program that featured The Raymond Scott Quintet. It made a smooth transition to television where Shriner hosted a prime time variety stint, for which Woody became a teenage writer. 'The first week I had written [an episode of The Herb Shriner Show] ... I went ... and I got in the back of the line of the studio audience to go in. And I was waiting—you know, there were three hundred people ahead of me—and Herb's manager came walking by and said, 'Why are you waiting in line?' And I said, 'Well, you know, I want to see the show. I wrote, you know, the jokes.' And he said, 'You don't have to wait in line,' and he took me through the stage entrance. It was the first time that ever happened to me. And I was backstage watching it and of course, this whole world was amazing to me ... I was seventeen years old and I was earning more money than my parents put together had ever earned in their life.' "
Advertisement

Woody Allen • Sport • Nov 1977
Allen, a huge basketball fan, wrote this profile of his favorite player:
"It's amazing, because the audience's 'high' originates inside Monroe and seems to emerge over his exterior. He creates a sense of danger in the arena and yet has enough wit in his style to bring off funny ideas when he wants to. He has, as an athlete-performer, what few actors possess. Marlon Brando is one such actor. The audience never knows what will happen next and the potential for a sudden great thrill is always present. If we think of an actor like George C. Scott, for instance, we feel he is consistently first rate, but he cannot move a crowd the way Brando does. There is something indescribable in Brando that pins an audience on the edge of its seats at all times. Perhaps because we sense a possible peak experience at any given moment, and when it occurs, the performance transcends mere acting and soars into the sublime. On a basketball court, Monroe does this to spectators."
Joan Didion • New York Review of Books • October 1979
Didion on what she calls Allen's "serious" movies:
"The people who go to see these pictures, who analyze them and write about them and argue the deeper implications in their texts and subtexts, seem to agree that the world onscreen pretty much mirrors the world as they know it. This is interesting, and rather astonishing, since the peculiar and hermetic self-regard in Annie Hall and Interiors and Manhattan would seem nothing with which large numbers of people would want to identify. The characters in these pictures are, at best, trying. They are morose. They have bad manners. They seem to take long walks and go to smart restaurants only to ask one another hard questions. 'Are you serious about Tracy?' the Michael Murphy character asks the Woody Allen character in Manhattan. 'Are you still hung up on Yale?' the Woody Allen character asks the Diane Keaton character. 'I think I'm still in love with Yale,' she confesses several scenes later. 'You are?' he counters, 'or you think you are?' All of the characters in Woody Allen pictures not only ask these questions but actually answer them, on camera, and then, usually in another restaurant, listen raptly to third-party analyses of their own questions and answers."
Walter Isaacson • Time • August 1992
A Q&A conducted in the midst of the media swarm around Allen's newly public relationship with Soon-Yi:
"Isaacson: Your movies always explore these types of emotions and motives. You must have sat up one night and thought about the problems you might cause dating the daughter of a previous lover, a mother she doesn't like?
"Allen: I didn't think about her not liking Mia. I did think that, well, she is the adoptive daughter of my previous girlfriend, but that didn't mean anything to me. It didn't manifest itself in any significant way. She was a grown, sophisticated person. She was raised in New York.
"Isaacson: You're a guy who can find moral dilemmas in a broken DON'T WALK sign. Didn't you see some here?
"Allen: I didn't find any moral dilemmas whatsoever. I didn't feel that just because she was Mia's daughter, there was any great moral dilemma. It was a fact, but not one with any great import. It wasn't like she was my daughter."
Michiko Kakutani • Paris Review • Fall 1995
Allen, in his own words, on his work:
" 'I've written on legal pads, hotel stationery, anything I can get my hands on. I have no finickiness about anything like that. I write in hotel rooms, in my house, with other people around, on matchbooks. I have no problems with it—to the meager limits that I can do it. There have been stories where I've just sat down at the typewriter and typed straight through beginning to end. There are some New Yorker pieces I've written out in forty minutes time. And there are other things I've just struggled and agonized over for weeks and weeks. It's very haphazard. Take two movies—one movie that was not critically successful was A Midsummer Night's Sex Comedy. I wrote that thing in no time. It just came out in six days—everything in perfect shape. I did it, and it was not well received. Whereas Annie Hall was just endless—totally changing things. There was as much material on the cutting-room floor as there was in the picture—I went back five times to reshoot. And it was well received. On the other hand, the exact opposite has happened to me where I've done things that just flowed easily and were very well received. And things I agonized over were not. I've found no correlation at all. But, if you can do it, it's not really very hard ... nor is it as tremendous an achievement as one who can't do it thinks.' "
Peter Biskind • Vanity Fair • December 2005
A sympathetic profile, written as Allen hit 70:
"Allen has become an artist without honor in his own country—not, unfortunately, an anomalous situation. Many of his heroes have shared this fate. Akira Kurosawa found it nearly impossible to obtain Japanese financing in the twilight of his career; feeling himself shabbily treated by the Swedish government for a few years in the 1970s, Ingmar Bergman refused to make pictures in his homeland; and in two of the most egregious American examples, Charlie Chaplin found it expedient to leave the country altogether in the early 1950s, one step ahead of Red-hunting squads baying at his heels, while Orson Welles in his later years was reduced to shilling for Gallo wine. Still, one would hope that in most countries a national treasure like Allen, especially one who toils in a profession wherein selling or burning out is an all too common occupational hazard, would be showered with distinctions, lionized, and fêted."
Juliet Lapidos • Slate • March 2011
Lessons learned from the complete Allen catalog, save Midnight in Paris:
"One might detect in my behavior a trace of the repetition compulsion that animates Allen. In my defense, and in his, consider this: Though he returns to the same themes, I've found significant differences in how he treats those themes—variations not attributable to basic shifts in genre (comedy versus drama) or to fluctuations in quality. (Sadly, I must admit he is far from consistent in this regard. Celebrity and Hollywood Ending belong in a bonfire.) There's also diversity in the way Allen's characters grapple with the ideas that preoccupy him, particularly in the way they handle the likelihood that we live in a godless universe. Allen answers the question of what we should make of nothingness differently in different movies. Sometimes nothing means everything, sometimes nothing much."
TODAY IN SLATE
Politics
Talking White
Black people's disdain for "proper English" and academic achievement is a myth.
Operation Backbone
How White Boy Rick, a legendary Detroit cocaine dealer, helped the FBI uncover brazen police corruption.