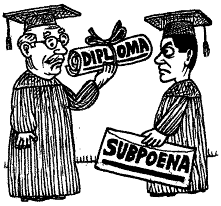 The latest trend in malpractice law is educational lawsuits. The Chronicle of Higher Education reports that nearly 30 students are suing their universities for "breach of contract, fraud, misrepresentation, or negligence." Most of the claimants are angry at the poor quality or low value of the degrees they received. James M. Houston, who earned a Ph.D. in educational leadership from Northern Arizona University in 1995, is seeking $1 million in punitive damages for an education he says makes him a "fraud."
Other litigants are suing over degrees that were never awarded. A student who had enrolled at Lorain County Community College in Ohio in 1993 but never graduated from the school's nursing program is suing for breach of contract and violation of consumer protection laws, Community College Week reports. According to that publication, the student contended that "the catalogue of course offerings and academic policies created a contract that obligated the college to provide him with a nursing degree." He complained that courses required for his degree hadn't been offered during the time of his matriculation, forcing him to leave before earning the degree. But an appeals court threw out the suit, stating, "Ohio does not recognize educational malpractice claims for public policy reasons."
According to the Southern Illinois University Daily Egyptian, SIU's medical school has "changed its long-standing policy of cutting the limbs off of cadavers to fit them into wardrobe boxes" before shipping them off to be cremated. An e-mail message sent to local media and the Illinois Board of Higher Education had claimed that student workers were employed to remove the limbs and that the policy was designed to save money. Both charges turned out to be false. But the school of medicine has stated that "in the future no student workers will work with cadavers or disintegrated anatomical remains. Further, we will no longer physically alter anatomical remains." SIU says the new policy is more respectful of people who have donated their remains to the cause of science.
In other cadaver news, a technique developed by a German anatomy professor named Gunther von Hagens, which allows him to preserve and study the body in detail, has occasioned protest. Plastination, as the preservation method is called, involves the replacement of blood by a colored polymer, which maintains its shape as the flesh is gradually removed. The entire circulatory system, down to the tiniest capillaries, can be examined at full scale. An exhibition of von Hagens' work has toured Japan and Germany, and protesters have called it an affront to human dignity--which the German Constitution requires citizens to preserve.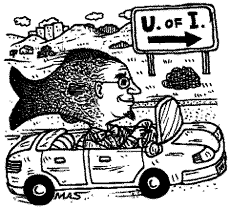 Stanley Fish, the flamboyant Milton scholar, legal theorist, and academic celebrity (David Lodge based his jet-setting Professor Morris Zapp on him), has left Duke University and the English department to which he attracted a parade of stars and controversies. According to the Chronicle of Higher Education, Fish will become dean of liberal arts and sciences at the University of Illinois at Chicago, a respected commuter campus making a bid for greater prestige and attention. Fish's wife, Jane Tompkins, who has made her disenchantment with conventional teaching and scholarship the subject of both her courses and her writing, will teach one course a year in the school of education.
Fish is not the only academic celebrity making a somewhat mysterious job switch. Philosopher Richard Rorty (whose work was the topic of "Out of Left Field" in Slate) has given up his chair at the University of Virginia (and a salary that made him the highest-paid public employee in the state) in favor of a nontenured post at Stanford, where he'll teach until he retires--or until a better offer comes along. His reason: He wants to be nearer to some members of his family.