When the Bard Had the Blues
"If Shakespeare could feel depressed about his writing, then I'm certainly entitled to be depressed about mine."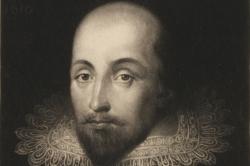 "Sonnet 29" is a favorite of mine because it makes me laugh about unhappiness—my own and Shakespeare's.
An occupational hazard of poets is feeling oneself an unappreciated outsider. One compares oneself to others in the trade. One decides one isn't really any good anyway. But Shakespeare? Can it be possible that Shakespeare could get depressed and want another poet's "art"? "Desiring this man's art and that man's scope"—it's hard to imagine whom Shakespeare could envy as an artist. Possibly Edmund Spenser? The man admired for his "scope" could have been George Chapman, translator of Homer, often suggested as the rival poet who figures in the sonnets. But the comparisons seem absurd. Nobody in his time writes up to Shakespeare's knees. If Shakespeare could feel depressed about his writing, then I'm certainly entitled to be depressed about mine.
But the term depressed oversimplifies. The sonnet's complex cascade of mental "states" begins with "disgrace"—a concept we have almost lost in our society. (Coetzee's novel Disgrace does an excellent and painful job of resurrecting it.) In 1590, being "in disgrace with fortune and men's eyes" meant being a real loser.* Did the poet gamble? Did he invest and lose? Did he throw his money away on whores? Was he momentarily out of pocket? Do we care? He seems to evoke a world where if Lady Fortune forsakes you, so will your friends. Alternatively, the uneasy rhythm of "fortune and men's eyes" almost asks us to stress the "and," suggesting two independent disasters. The string of "ands" in the poem—four in the first quatrain, another in the second—drives a surge of relentless self-pity and self-criticism.
"State" is an interesting word. Its dominant meaning in "outcast state" is public and spatial. It also suggests an internal state of mind. With "deaf heaven," an entirely other space or state is evoked. The poet, like Job, cries in vain to that divine space and like Job he looks upon himself with disgust (see Job 7:5) and curses his fate (Job 3:1-19).
Three lines list the qualities he envies in other men—great expectations, good looks, friends (presumably friends with money), this poet's skill and that one's range. Then, a summary slap-down ends the second quatrain, "With what I most enjoy contented least." "Enjoy" here has its 16th-century meaning of have or possess, as one might "enjoy" good health. As I recognize the tendency to disparage one's own qualities, the line makes me both laugh and cringe.
The opening of the third quatrain brings relaxation to the syntax, smoothness to the meter: "Haply I think of thee, and then my state …" with "haply," i.e., by chance or happenstance, neatly replacing the sternness of Fortune, and "state" now referring simply to emotional state. So the external/ internal imagery from the poem's opening is beginning to be reversed. The exquisite image of the lark returns us to "heaven," where the poet's cries of woe have turned to songs of praise. The image may also be sexual; I think it is. That is: The poet thinks of his lover and gets a hard-on. In an extraordinary feat, the poem presents these two registers of joy, spiritual and physical, as one.
Previous Slate Classic Poem discussions have mentioned misremembering phrases of poetry. I used to misremember line 13, and say "For thy sweet love remembered such bliss brings," going for the cheap alliteration, but the word is "wealth," explicitly reversing the spell of unfriendly Fortune, or affirming that inner wealth trumps outer wealth. "State" makes a final appearance, this time signifying the external world of a king—his power, his possessions, his land, his nation state. Or perhaps we should understand, at the poem's closure, that love is worth more than a king's external and internal states, as in the biblical Song of Songs (8.7), which rejects riches in favor of love.
"Sonnet 29" involves the idea of fate versus happenstance, and of heaven as indifferent or welcoming with a conception of mental states as existing spatially. As for me, when I feel gloomy in ways that recall the first eight lines, haply I think on Shakespeare, and feel better.
Click the arrow on the audio player to hear Alicia Ostriker read "Sonnet 29." You can also download the recording or subscribe to Slate's Poetry Podcast on iTunes.
When, in disgrace with fortune and men's eyes,
I all alone beweep my outcast state
And trouble deaf heaven with my bootless cries
And look upon myself and curse my fate,
Wishing me like to one more rich in hope,
Featured like him, like him with friends possess'd,
Desiring this man's art and that man's scope,
With what I most enjoy contented least;
Yet in these thoughts myself almost despising,
Haply I think on thee, and then my state,
Like to the lark at break of day arising
From sullen earth, sings hymns at heaven's gate;
For thy sweet love remember'd such wealth brings
That then I scorn to change my state with kings.
Correction, April 30, 2013: This column originally misstated the year during which Shakespeare would have been "in disgrace with fortune and men's eyes." It would have been 1590, not 1690. (Return to the corrected sentence.)