Ted Cruz Will Not Join a Protest of The Death of Klinghoffer After All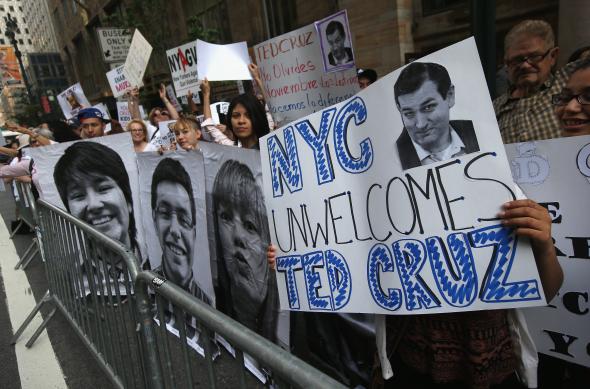 Yesterday evening BuzzFeed's Rosie Gray reported that Sen. Ted Cruz would "join a protest outside Lincoln Center on Monday against a controversial opera about the murder of of a disabled American Jew by Palestinian terrorists in 1985." The Death of Klinghoffer, a modernist opera by John Adams that had lost its mania-making powers until very recently, became a target again after the Met announced a new performance and some supporters of Israel demanded it be shut down. (The Death of Klinghoffer dramatizes the 1985 hijacking of the Achille Lauro cruise ship by the PLA, and the murder of the wheelchair-bound Klinghoffer by Arabs who are portrayed in a way that an audience can empathize with.)
Ronn Torossian, a spokesman for the protest, told Gray that Cruz would definitely be there. Cruz's office begs to differ. "We have a scheduling conflict and can't go," says Catherine Frazier, a spokeswoman for the senator. Sure enough, this is the last scheduled week of Senate activity before a pre-election recess, and the idea of a senator leaving votes to appear at a protest four hours up I-95 was a head-scratcher.
Cruz's scheduling conflict saves him from appearing at two controversy-laden events about the Middle East in the space of one week. Last week the senator was famously carried out of a Middle East Christian conference on a wave of heckles. Had he shown up today, Cruz would be on the same team as Ronn Torossian, the promoter who has been organizing against the Met's performance, and who once waxed to Jeffrey Goldberg about the need for Israelis to exterminate Arabs.
Torossian and I started talking about Israel's right to reprisal for terrorist attacks. I was arguing in favor of some sort of proportionality (this was after Jenin, in which the Israeli army chose to root out terrorism block by block rather than bomb the city from the air) but Torossian interrupted: "I think we should kill a hundred Arabs or a thousand Arabs for every one Jew they kill." I was somewhat taken aback, of course, because this is a Nazi idea, rather than a Jewish idea. I asked him to explicate: "If someone from a town blows himself up and kills Jews, we should wipe out the town he's from, kill them all. The Israelis are suckers. They should have destroyed Jenin." He went on like this for some time.
Anyway: Cruz will not be sharing a stage with that guy.