Ted Cruz's Brilliant Cynicism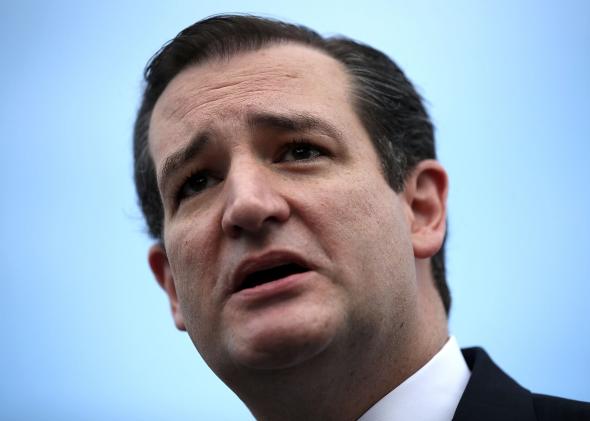 Last week I briefly noted Ted Cruz's dive-bomb trolling of the In Defense of Christians conference, an event intended to raise awareness of the plight of the Middle East's believers. Cruz was invited to speak; Cruz accepted; Alana Goodman reported that some of the players behind the conference were critics of Israel; Cruz showed up and started defending Israel, until boos gave him the chance to leave the stage.
My first response: Hey, smart move by Cruz. I called it a "Sister Souljah moment," embracing a trope that's always annoying; and Jonathan Bernstein was annoyed. "A true Republican Sister Souljah moment wouldn't involve taking on opponents of Israel," he argued. "Rather, it could be a smackdown of Republican-aligned fans of Israel who use extreme language."
Meanwhile, some great writers of the paleoconservative persuasion have explained exactly how cynical it was for Cruz to disrupt the conference. Jonathan Coppage grabbed audio of the entire speech—the part Cruz delivered, anyway. The boos, annotated by Coppage, grew louder as Cruz insisted that any enemy of Israel was an enemy of Christians.
In 1948, Jews throughout the Middle East faced murder and extermination and fled to the nation of Israel. And today, Christians have no greater ally than the Jewish state. [mixed applause, boos, "come on"] Let me say this, those who hate Israel, hates America. And those who hate Jews, hate Christians. And if this room will not recognize that, then my heart weeps, that the men and women here will not stand in solidarity with Jews and Christians alike who are persecuted by radicals [applause] who seek to — [applause]. If you hate the Jewish people you are not reflecting the teachings of Christ [applause]. And the very same people who persecute and murder Christians right now, who crucify Christians and behead Children are the very same people who target and murder Jews for their faith for the very same reason.
As Michael Brendan Dougherty points out, Cruz was painting a unicorns-and-rainbows picture of an Israel that does not exist. "Israel has not been particularly helpful to Christians in the Middle East," wrote Dougherty. "One would imagine their 'greatest ally' would welcome Christian refugees escaping violence, or endeavor a military campaign to beat back the group that is crucifying and beheading them. The Kurds do those things. So do the Americans. The Israelis do not. No one should blame them for this, it is just the reality of their national interest. But neither should anyone claim anything more on their behalf."
If you zoom around the paleo blogs and magazines, you will hear many of these factual arguments against what Cruz did. My cynical point (less interesting, sure, than the contemporary geopolitics) is that this does not matter. Cruz wasn't talking to paleos, or Arab Christians. He was talking to the millions of conservatives—77 percent of them, and 70 percent of white evangelicals—who take Israel's side in any dispute. For them, extremism in defense of Israel is no vice.