Democrats Currently Winning Every Blue State Senate Race, Losing Anyway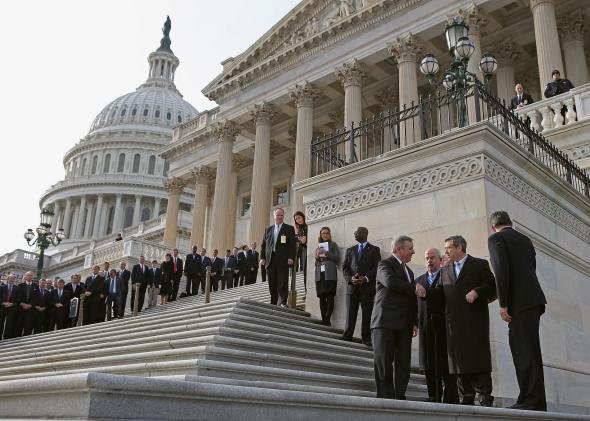 Over the weekend NBC News, the NYT, and their respective polling partners released a crop of fresh numbers on the Senate races. A sampling of the headlines:
The more telling data, as usual, appears in the pitiless RealClearPolitics polling averages. If you click over to RCP and ask itscomputer to produce Senate race predictions based on today's averages, here's what you get:
This map perfectly reflects the results of the 2012 election. Republicans are conquering all the territory that Mitt Romney conquered. But they're unable to muscle Scott Brown into the lead in New Hampshire, or Rep. Cory Gardner into the lead in Colorado. Even Rep. Bruce Braley, who has been affixed with the "gaffe-prone" label for months, is narrowly up on the highly touted, biography-to-die-for Republican challenger Joni Ernst. This map is just so sweet for Republicans that they can win the Senate without breakthroughs into blue states, just as they can expand their House majority by beating Democrats in seats that voted for Romney in 2012—West Virginia, Utah, North Carolina, a few others.
As Nate Silver says, Republicans can win the Senate with victories in six states—Alaska, Arkansas, Louisiana, Montana, South Dakota, and West Virginia—that Mitt Romney won by an average of 19 points. But this election stubbornly refuses to turn into 2010 or 2006, when the opposition party surged in states that its presidential candidate had just lost. By this point in 2010, Wisconsin Republican Ron Johnson was inching ahead of Sen. Russ Feingold. By contrast, Minnesota Sen. Al Franken is 8 points ahead of challenger Mike McFadden, despite a bunch of speculation that this race will come onto the radar. (I apologize to Cheeseheads for comparing them to Minnesotans.) In Arkansas four years ago, Democratic Sen. Blanche Lincoln was polling 28 points behind challenger Rep. John Boozman. In Arkansas today, Rep. Tom Cotton is polling only 2 points ahead of Democratic Sen. Mark Pryor.
What explains this? Here's a hint from NBC's Mark Murray, making light of the "Romney 2016?" distraction that filled many a column inch during the August doldrums.
That Mitt Romney rebound? His fav/unfav is underwater in AR (38%-45%) & CO (40%-51%). Above water in KY (44%-41%)

— Mark Murray (@mmurraypolitics) September 7, 2014
Republicans aren't terribly popular right now, but they're getting to fight the election in places where the coal-hatin', gun-grabbin', Obamaphone-dialin' Democratic Party is always unpopular. It's a nice problem to have! But you're starting to see more establishment conservatives fret about whether the party is going to fail to break through in blue states, despite Obama approval ratings in the low 40s and high 30s, and despite tens of millions of dollars spent to keep kooks from winning Senate primaries. That was worth it, and Democrats would be in far better shape right now had Joe Miller won the GOP primary in Alaska, or Rep. Paul Broun managed to win the GOP nomination in Georgia. But Republicans want a wave, and voters keep hesitating to give them one.
UPDATE: On Twitter, @CTIronMan points out that I ignore Maine Sen. Susan Collins, a Republican who is winning in a blue state. And so she is. But she's been winning since 1996, and even in 2008 Democrats could not seriously challenge her.