Mitch McConnell's Campaign Manager Resigns After Being Ensnared in Iowa Ron Paul Scandal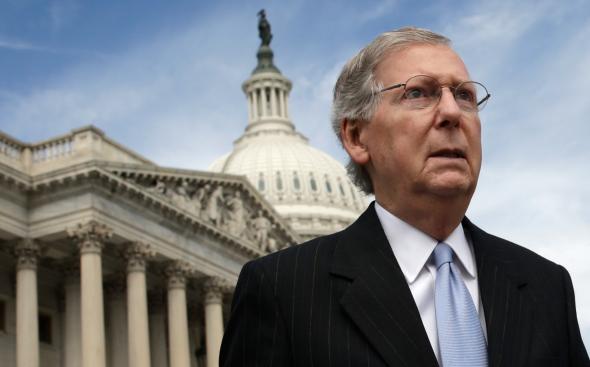 Dennis Fusaro has finally claimed his scalp. More than a year ago, Fusaro—a veteran of the first and less successful Ron Paul GOP presidential bid—started taping phone calls between himself and veterans of Paul's 2012 campaign. Right before the 2012 Iowa caucuses, Iowa state Sen. Kent Sorenson had bolted from Michele Bachmann's campaign to join Paul. Bachmann claimed that Sorenson was bribed.* He denied it.
Fusaro kept on the story. He made calls, and released the tapes to the Economic Policy Journal and the Iowa Republican. He got Sorenson referring to a check, confirming a possible bribe from Dimitri Kesari, then working for the Paul campaign.
"I know Jesse knows," said Sorenson, after being prodded by Fusaro.
"Jesse" was Jesse Benton, Paul's 2012 spokesman, and (after 2008's campaign) the husband of one of Paul's granddaughters. Fusaro called him to talk about the allegations, and in the process to snark about his new job managing Mitch McConnell's re-election bid.
"Between you and me," Benton told Fusaro, "I'm sort of holding my nose for two years because what we're doing here is going to be a big benefit to Rand in '16, so that's my long vision."

That call was released on Aug. 8. McConnell's campaign, which was then working to demolish challenger Matt Bevin before the first-time candidate could establish himself, released a jokey photo of McConnell grinning while Benton held his nose. The bribe story didn't rattle any cages. McConnell spent heavily and won the primary.
But Fusaro was drawing attention to a scandal that had already cost Sorenson his job, and was being investigated by lawyers. Yesterday Sorenson finally pleaded guilty to taking $73,000 in from the 2012 Paul campaign. Today, in the early evening of a three-day holiday weekend, Benton quit the McConnell campaign. Via Sam Youngman:
Benton said in his statement that "there have been inaccurate press accounts and unsubstantiated media rumors about me and my role in past campaigns that are politically motivated, unfair and, most importantly, untrue."
"I hope those who know me recognize that I strive to be a man of integrity," Benton said. "The press accounts and rumors are particularly hurtful because they are false."
But Benton said he found it more "troubling" that the rumors "risk unfairly undermining and becoming a distraction to this re-election campaign."
The irony here is that the damage to McConnell's campaign is minimal. It's a flesh wound. McConnell's campaign didn't bribe anyone. It paid Kesari for some consulting work, but did not keep him around.
Rand Paul hasn't kept Kesari around, either. Earlier this year I reported on the Iowa scandal, Kesari, and the fairly obscure players who went from the world of direct mail to the worlds of Ron and Rand Paul. It was made very clear to me that Kesari was not among the people being brought into Rand Paul's orbit as he expanded his national profile and made trips to primary states. Nobody knew what would happen to the bribe saga, but Iowa allies of the Pauls were already working to distance themselves from the key figures.
Now Jesse Benton is distancing himself from McConnell. Benton said it himself: He'd expected to help re-elect the Senate GOP leader, then go from zero to 60 on the Rand Paul presidential campaign. That smooth transition, and that mutually beneficial arrangement between the establishment and the great liberty movement hope, is in disarray.
*Correction, Sept. 2, 2014: This post originally misspelled Michele Bachmann's first name.