Elizabeth Warren Sides With Israel, Not With the Liberals Who Keep Daydreaming About Her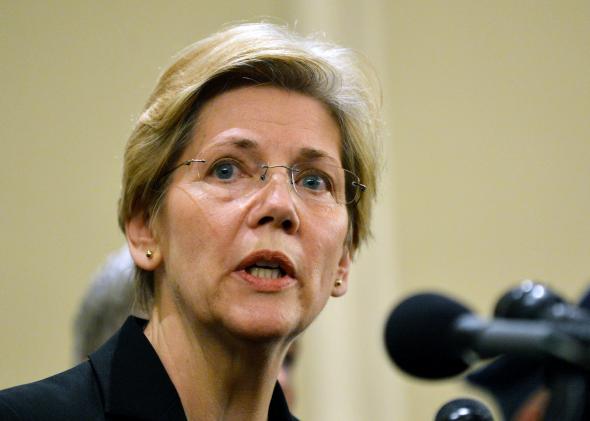 Last month's Netroots Nation conference brought about a virtual epidemic of Warrenmania: The contagious theory that freshman Massachusetts Sen. Elizabeth Warren is ideally positioned to challenge Hillary Clinton for president, and that she hasn't really ruled that out. I was skeptical, because she has ruled this out, many times, and because of a nagging worry some Clinton doubters shared with me. They didn't know where Warren was on foreign policy. Clinton's neoliberal hawkishness, which had created the conditions for beating her in 2008, was well known. But Warren had never really staked out a foreign policy vision, not even in her memoir. In Detroit, when reporters for the conservative Capitol City Project ambushed Warren with a Gaza question, she Speedy Gonzales'd her way to a hotel elevator.
Via Glenn Greenwald, here's a report from C. Ryan Barber on how Warren handled the Israel question. (The report is one week old; maybe we were all busy with real news last week.) In Cape Cod, a Warren supporter told the senator he disagreed with her recent vote to fully fund Israel's Iron Dome, and that people were "disagreeing with Israel using their guns against innocents." He was not alone; according to Gallup, Democrats viewed Israel's operation in Gaza as "unjustified" by a 47-31 margin, and independents opposed the operation by a 46-36 margin.
Yet Warren didn't agree with them, or with the voter.
"America has a very special relationship with Israel. Israel lives in a very dangerous part of the world, and a part of the world where there aren't many liberal democracies and democracies that are controlled by the rule of law. And we very much need an ally in that part of the world."
Warren said Hamas has attacked Israel "indiscriminately," but with the Iron Dome defense system, the missiles have "not had the terrorist effect Hamas hoped for." When pressed by another member of the crowd about civilian casualties from Israel's attacks, Warren said she believes those casualties are the "last thing Israel wants."
"But when Hamas puts its rocket launchers next to hospitals, next to schools, they're using their civilian population to protect their military assets. And I believe Israel has a right, at that point, to defend itself," Warren said, drawing applause.
A few weeks ago, when Warren announced a post-midterms trip to Israel, it was covered as a box-checking exercise for a possible 2016 run. What if it's not that? What if Warren has the foreign policy views you might expect from a baby boomer who was a registered Republican during much of the Clinton presidency? In that case, she's not well positioned at all to build a left-wing political coalition against the Clintons, as she keeps saying she won't do. Brian Schweitzer—now, there's a guy ready to go to Hillary Clinton's left on foreign policy. But well, you know.
I asked organizers of Ready 4 Warren about the Israel quote, and will post any response, though there's nothing about foreign policy in its organizing statement.