Rand Paul: "It Is Impossible for African-Americans Not to Feel Like Their Government Is Particularly Targeting Them"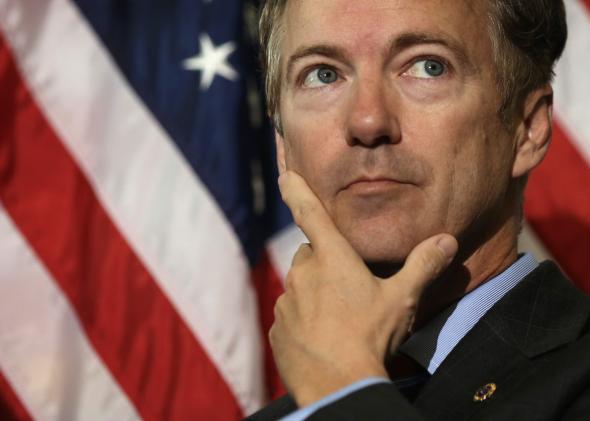 One of the sillier questions of the #Ferguson outrage was Where's Rand Paul? The Kentucky senator had been carving out room for himself to call for criminal justice reform. This was his issue, wasn't it? An unusual number of reporters (myself included) questioned when Paul would respond to the crisis, and then reported on how.
The wait is over: Paul, who's in Kentucky at the moment, has written his thoughts up for Time.com. What, like he was going to take a pass? (The magazine has placed him on its "Time 100" list of influential people for two years running.) And he hits the sweet, green spot between libertarianism and black American outreach. "If I had been told to get out of the street as a teenager," writes Paul, "there would have been a distinct possibility that I might have smarted off. But, I wouldn't have expected to be shot." Later, he sympathizes with blacks who "feel like their government is particularly targeting them." It's exactly what Paul does when he talks about drug laws and felonies, giving examples of how so many white people have escaped the life-changing criminal judgments of black people who behave the same way.
Next: the libertarianism. Paul cites a trio of conservative/libertarian writers: Instapundit Glenn Reynolds, the Cato Institute's Walter Olson, and the Heritage Foundation's Evan Bernick. I'm surprised that there's no direct quote of Radley Balko, who, as I wrote this morning, was one of the first scholar/reporters to obsess over police militarization. My hunch was that Balko, who now works at the Washington Post, is not as obvious a source to to cite if you're crediting the libertarian movement with these insights, but apparently the op-ed simply ran long. Nevertheless, you get some seriously Balkofied arguments at the end:
Big government has been at the heart of the problem. Washington has incentivized the militarization of local police precincts by using federal dollars to help municipal governments build what are essentially small armies—where police departments compete to acquire military gear that goes far beyond what most of Americans think of as law enforcement.
This is usually done in the name of fighting the war on drugs or terrorism. ... When you couple this militarization of law enforcement with an erosion of civil liberties and due process that allows the police to become judge and jury—national security letters, no-knock searches, broad general warrants, pre-conviction forfeiture—we begin to have a very serious problem on our hands.
Paul has just embraced a reform agenda that "Orange Line" libertarians have been calling for since at least the middle of the Bush presidency. Balko, et al. had frequently spotlighted individuals, often black, who were victimized by no-knock raids by militarized police. Paul has joined the conversation as the whole world has started watching.