Ben Carson's New Book Just Outsold Hillary Clinton's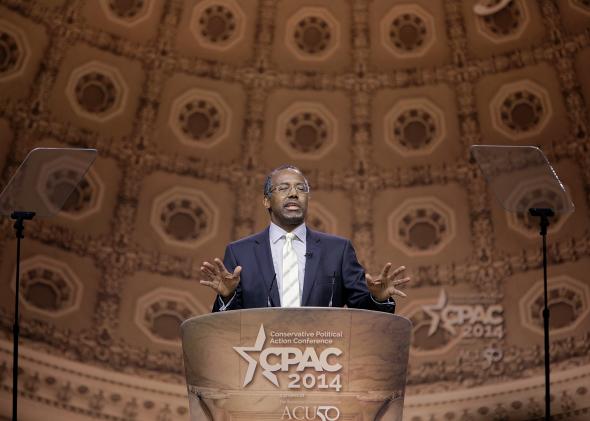 It's hard to gauge how seriously to take the political ambitions of Dr. Ben Carson. For starters, it's unclear exactly what his ambitions are. He lives in blue Maryland, where Democrats have comfortably won every Senate race since 1986, and where Democrat Anthony Brown is expected to soon become the state's first black governor. He has formed a PAC, and he's heading to Iowa this month—I talked to local Carson fans who are trying to get people to his book tour stops in the western and eastern parts of the state. But as a public speaker, he's sort of unfocused, spending lots of time relitigating the latest liberal calumny against him.
And yet. According to Nielsen BookScan, Carson has pushed past Hillary Clinton and become the author of the year's second-best-selling nonfiction book. Carson's One Nation has sold 224,990 copies, a massive success for his publisher, Random House. (The book came out under the conservative Sentinel imprint.) Clinton's Hard Choices has sold 222,822 copies. The two of them have been bested only by Bill O'Reilly, whose Killing Jesus has sold 228,811 copies. They are joined in the blockbuster circle by Michael Lewis (189,726 copies of Flash Boys), Charles Krauthammer (177,121 copies of his column collection) and Thomas Piketty (158,668 copies of Capital). Carson's book is substantially shorter than Clinton's, and retails for $9.05 less, but he gets bragging rights if he decides to jump into politics.
Oh, and Elizabeth Warren's A Fighting Chance has sold 71,930 copies. You were the one who asked.