"You're Very Good at English": DREAMers Confront Rep. Steve King in Iowa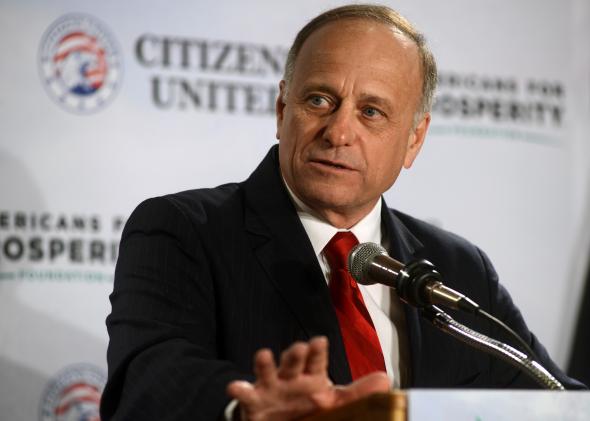 For the better part of a year, young DREAMer activists (young people brought to the country illegally by their parents) have been ambushing Republican politicians and asking them to explain themselves. Erika Andiola and Cesar Vargas, experienced activists both, confronted Iowa Rep. Steve King while he was touring his district with Sen. Rand Paul. There is, arguably, no member of Congress more bold in his opposition to any kind of legalization than King.
What I'm saying is that this video is worth the click.
0:11: Andiola, having greeted King and Paul, says she's a DREAMer. Paul is halfway through a bite of a hamburger when an aide (who appears to be Sergio Gor, who used to work for King) leaps up and guides him away from the conversation.
0:56: King stands up, offended that Andiola thinks he insults people. "You're very good at English," he says. "You can understand the English language, so don't play with it."
1:17: King asks for reassurance that Andiola is not a drug smuggler.
3:52: A voice breaks into the dialogue, asking the videographer why she's taping this.
4:22: King flips away Andiola's business card. "You keep your card. I don't do individual policy. I do national policy."
5:38: King is unimpressed when Vargas says the first American casualty was undocumented. "He lied to get into the military. Will you admit that?"
6:30: A man offscreen starts moaning, "Go home!"