Neel Kashkari and the Ghost of Tom Joad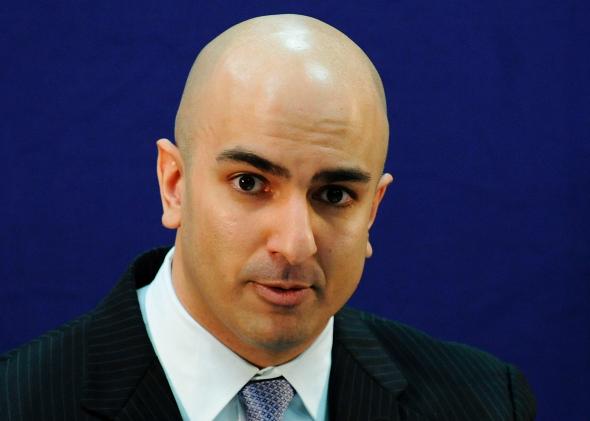 First there was Sen. Tim Scott, the fast-rising black Republican who started going undercover to find out what his less visible, poor constituents were interested in. Then there was Rep. Paul Ryan, whose "secret poverty tour" shed its mysteriousness in advance of Ryan's own—well-reviewed—poverty agenda.
And now there's Neel Kashkari, the one-time TARP czar who's now running for governor of California. Kashkari's promise is that he's not a dumb old white guy; according to George Will, he may represent the GOP future. Kashkari's problem is that he's running against Gov. Jerry Brown, who's presided over rising employment, closed a budget deficit, and leads by around 20 points in polls. But "guy who got millions of votes in a race for governor" is a better resume-topper than "TARP czar," and the cost of Kashkari defeat is pretty low. He can afford to try out stuff, like living on the streets of Fresno for a week and releasing a documentary about the results.
Like a lot of Kashkari's moves, it's compelling until you try to find the substance. The video lets average people make arguments about how California has recovered for the wealthiest, but not the rest. But California's recovery has reached Fresno. The county (the city of Fresno makes up more than half the population of the county) was suffering from a 17.3 percent unemployment rate when Brown won in November 2010. The unemployment rate now is 10.4 percent. This is doubtlessly why Kashkari focuses on the poverty rate, which if adjusted for cost of living is the highest in the country.
In a Wall Street Journal op-ed, released with the video, Kashkari says he was ready to "do anything: wash dishes, sweep floors, pack boxes, cook meals, anything. I went to dozens of businesses in search of work but wasn't able to get any." In the video, we see him sleeping on streets and sitting glumly after blowing his money on banana. What's the point? At the end, Kashkari locks eyes with the camera and describes what he learned.
"The solution is not more welfare," he says. "It's not more food stamps. It's jobs. And we know how to do this. These problems are of our own making... we know how to rein in regulations so our businesses can grow and thrive and hire. We know how to invest in water so that our farms have enough water and can hire workers."
Well, okay. But are we talking about poverty or unemployment? People with jobs receive food stamps; people with jobs fall below the poverty line. Millions of them. Kashkari's site promotes the poverty video by linking to his jobs plan, which repeatedly criticizes Brown for the companies that have moved manufacturing from California to Texas—which, well, has a higher poverty rate than California. Kashkari wants legal fracking in California, which would create jobs, but he wants (as he frequently says on the trail) to kill a planned high speed rail line from San Francisco to Los Angeles. How many jobs would the rail line create? How could people in Fresno make use of it? Forget about it—it's a "crazy train," according to Kashkari.
The Slate reader probably isn't the main target of this video. Kashkari did go undercover for a poverty tour, and not many Republicans do such things, so he's going to spark even more discussion about what a bold campaign he's running. He's going to get more donations, thanks to this video. If he accidentally reveals that he has no new ideas about poverty, nobody needs to notice.