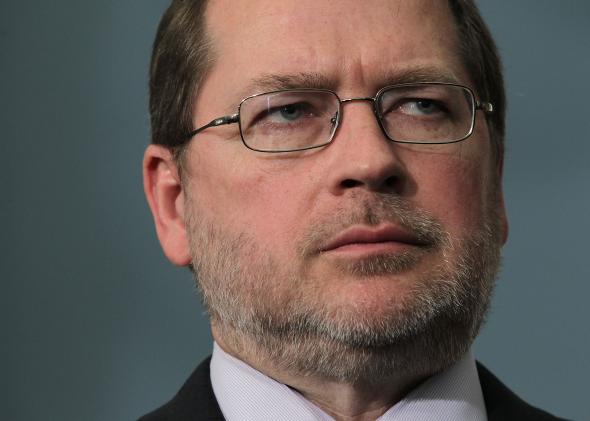 Grover Norquist is not shy about media availibility, but yesterday was spectacularly busy. On Monday, Norquist had tweeted that he and his wife were "off to Burning Man" this year, after ages of wishing and hoping. According to Norquist's office, he got "eight or 10" calls from the press; the running joke was that reporters were never this curious about his capital gains tax stances. One of the reporters on the line was former Slate-ster Emma Roller:
Norquist insists that the drug-filled utopia in the desert shares some common values with his own group, Americans for Tax Reform.
"Burning Man was founded in '86, the same year as the Pledge, and the first Burning Man had 20 people at it, and our first Center-Right Meeting—the Wednesday Meeting—also had 20 people. So I think there's a real kinship there," Norquist says. "These are very similar operations, except we tend to wear more clothes perhaps at the Wednesday Meetings.
But the most learned take on the news came from Brian Doherty, my friend and former colleague at Reason, whose book about Burning Man should have been a clue that anti-state radicals were fond of the festival. Doherty had reported, in 2012, on how festival founder Larry Harvey made the rounds in D.C.; it was under those circumstances that Norquist met him.
What does he make of the shock about this eventful news, Grover goes to Burning Man? "The right has a good idea of what guys on the left are like. We live in a world and a culture they dominate, we know what they think. They tend not to have a clue what conservatives do and think, all they have is a caricature." Norquist notes that it's pure ignorant prejudice to assume someone who wants to lower taxes can't possible appreciate, understand, or enjoy a culture filled with those who don't, or might not.
Honestly, had someone like Bill Bennett or Rick Santorum decided to check out Burning Man, the proverbial man would have bitten the proverbial dog. But Norquist, perennial bard of the "Leave Us Alone Coalition," is a Burning Man natural. Modern libertarians have always overlapped with, and grown out of, the counterculture.
A more intriguing aspect of that is how wealthy businessmen, who come to politics less out of a desire to build desert sculptures and more to prevent regulation of their businesses, discover the counterculture. That's the story suggested by Lee Fang, who covered the annual Las Vegas FreedomFest—a studiously cool conference that stands apart from the dry klatsches you see in D.C.—and ran into Don Blankenship. Yes, Don Blankenship, he of Massey Energy, he of many pro-coal rallies in West Virginia. "I'm basically looking for information and fresh ideas," Blankenship told Fang, from the meeting, which he attended right after the Heartland Institute's annual climate change skepticism conference. "We're in a reg-cecession." The hipness of libertarianism was a much more attractive storm port than the messy, villifiable activism he'd paid for before. This, it's pretty clear, is a reason why Pando is publishing so many pieces about the unsung past of Reason and the (increasingly well-known) background of the Koch family and Rand Paul. There's an effort to close off an escape hatch, before these people can rebrand themselves as relatable, radical, and cool.