Poll: Hillary Clinton Does Better With White Voters Than Any Democrat Since 1976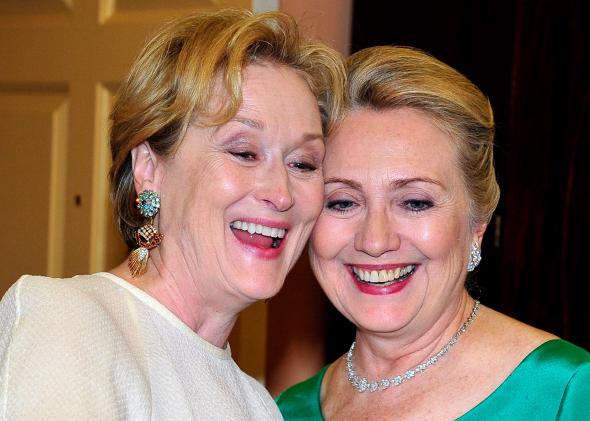 Long ago, before the God of Narratives decided that Hillary Clinton was an out-of-touch elitist, she was seen as a fearsome 2016 contender. As the theory went, she could outpoll Barack Obama with white voters while winning nonwhite voters. The new CNN poll suggests that this is still mostly true. In a fun, cheeky trial heat, CNN's pollster asked voters whom they'd support in a 2012 election do-over: Mitt Romney or Barack Obama? Romney won in a rout, the poor guy:
Next, the pollster asked voters to take sides in a hypothetical and inhumanely boring Clinton vs. Romney race. Clinton won easy, 55–42. It doesn't take true genius to figure out where those new Democratic votes came from.
Would you look at that? Obama, who won only 39 percent of the white vote in 2012, is swooning because he's lost even more of it. But Clinton's grabbing 46 percent of the white vote. That's better than Obama did in 2008 (43 percent), better than John Kerry did in 2004 (41 percent), better than Al Gore did in 2000 (42 percent). It's even better than her husband did in 1996 (43 percent), though that result—like the 1992 result—is skewed by the presence of Ross Perot. You have to go back to 1976 to find a Democrat who polled better than 46 percent with whites. And when Jimmy Carter narrowly defeated Gerald Ford, the electorate was 89 percent white overall. In 2016 it's likely to be closer to 70 percent white. In 2016 a Democrat who wins only 40 percent of the white vote and holds close to Barack Obama's totals with nonwhites can win easily.
Special bonus reason for Democratic gloating: In the theoretical Romney race, Clinton wins 62 percent of voters who make less than $50,000. Yes, even after the scandal of her speaking fees.