Where Have You Gone, Brian Schweitzer? A Nation Turns Its Lonely Eyes to You.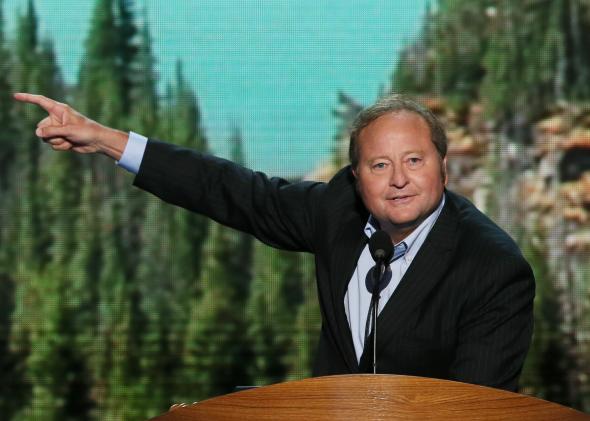 A full month has passed since Marin Cogan published the definitive 2014 profile of the much-interviewed Brian Schweitzer. Covering Schweitzer, who governed Montana from 2005 to 2013, was irresistable—he gave good quotes, he was openly speculating about a 2016 presidential bid, and if your news organization had the ad revenue, he would usher you into the magical landscape of his state. (When Schweitzer was expected to run for Senate, one adviser told me to come up and ride a prop plane with the man himself. Needless to say, this isn't something you're offered if you're profiling Martin O'Malley.)
Cogan blew up the reporter gravy train. Actually, she got Schweitzer to put down his own controlled demolition. In interviews for the piece, Schweitzer basically said that Rep. Eric Cantor seemed gay ("men in the South, they are a little effeminate") and that Sen. Dianne Feinstein was a slut for the national security state ("standing under the streetlight with her dress pulled all the way up over her knees").
This damaged Schweitzer in a way none of his other quotes had damaged him. Ruby Cramer is the first reporter to survey the rubble, emptying her notebook from the times Schweitzer gave her quotes that seemed newsy if said by a 2016-er and just sort of sad if said by a has-been. Cramer's the first to point out just how bad Schweitzer's timing was. Days after his gaffes ...
Hillary Clinton was quoted in a newspaper saying she and her husband are not among the "truly well off," and the political world rushed to wonder aloud how she could have ever said such a thing. Washington moved on. Schweitzer was suddenly laughable to the people who propped him up most — he had no place to show his skunk hide; no makeup artists to charm; no use, not at the moment, for the HD uplink, cell tower-powered, Israel-innovated, one-of-its-kind live-hit in-home studio at the end of his dirt road.
Has Schweitzer been that invisible? Yep. On June 17 he appeared on MSNBC's Ed Show, to talk about energy exploration and the Middle East. ("We keep tying economic interest to these unpredictable conflicts on the Middle East when we have all the power to do it here at home and we have all the people behind it.") On June 19, Cogan's profile went online. Schweitzer has not appeared on cable TV since then. He's contracted to MSNBC, and the network simply isn't using him. He has not slipped free of the contract to appear on CNN or Fox News. Actually, the only mention of Schweitzer on cable in the month of July came on Monday, when pollster Pat Caddell suggested Schweitzer would be a good candidate against Hillary Clinton.
Caddell is, of course, a shameless hack who is booked because he will say anything. He previously argued that Democrats needed to save their party by dumping Obama for Clinton. But the "booked because he will say anything" role belonged to Schweitzer just weeks ago. He's been silent as Clinton's been battered over her post-State speaking fees, and as ISIS swept into Iraq. Those are his issues!
I left Schweitzer a message, to figure this out and to, you know, give him a chance to weigh in on policy like he used to. But I suddenly remembered how there was literally zero buzz about Schweitzer at last weekend's Netroots Nation conference. Schweitzer had spoken at NN in the past (in 2010) and had been touted for years by progressive bloggers.